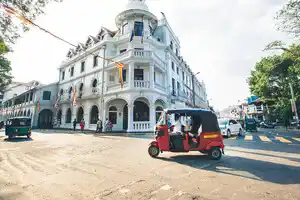 Located within the stunning island nation of Sri Lanka Polonnaruwa is one of the main towns of the district and is a big-time tourist attraction. The lush greenery here is remarkable and the ancient ruins here have been preserved very carefully while being amalgamated with the modern part as well. Filled with temples, sites of ruins, UNESCO world heritage sites, museums all amidst the lush green foliage cover, Polonnaruwa is truly a cultural hub spot. Popular as Sri Lanka's 2nd most ancient kingdoms the tourist attractions here hold a lot of historical significance. Visiting here is a must during your vacation to Sri Lanka. This can be done in a more proper manner through this complete and detailed Polonnaruwa travel guide.
History
The city was established as a capital for the Chola dynasty under the name Ananthapuram during the 10th century. During this time Hinduism as a religion had flourished with the king building temples like Siva Devale. During this time Polonnaruwa was being ruled directly as a province of the Chola Empire. Later on in the following year of 1070 AD the Chola rule came to an end entirely on the island and was captured by Vijayabahu 1. Being located on a very strategic location trade and agriculture had flourished during the rule of the new king. He believed that not a single drop of water being sent from heaven should be wasted and keeping this in mind he got the constructions of elaborate and superior irrigation systems made. The entire kingdom was totally self-sufficient up till the reign of king Parakramabahu. After him his successors weren't able to keep up with handling a kingdom and were weak willed. They also used to pick fights within their own courts which really shook the entire foundation and later on the structure of the kingdom.
How to Reach
By Road – On reaching Sri Lanka international airport you can hire a cab and head for Polonnaruwa. You can even opt for car rental services from the airport itself. The overall journey to Polonnaruwa will be of close to 5 hours and you will be crossing ambepussa, Kurunegala then follow the road for Trincomalee highway A6.
By Train – Train journey just like the bus is a very cheap option of travel. You can get on the train to Trincomalee in Colombo fort station and connect in Gal Oya and this will drop you off at Polonnaruwa. Trains do not run to or from Anuradhapura for Polonnaruwa.
By Bus – You can choose to get your bus for Polonnaruwa from Colombo, Anuradhapura or Kandy. From Colombo you can take the intercity which will drop you off after travelling from around 6 to 8 hours depending on the traffic. From Anuradhapura you can get on the bus for Polonnaruwa which runs from here throughout the day and it is located at a distance of 100 kms and takes 3 hours to cover.
Getting Around
The best way of getting around is by cycling to and fro. These cycles are easily available or are also provided by guesthouses. Mostly all the sites in Polonnaruwa are located in very close proximity to each other and can easily be covered via a cycle ride. This is not only cost effective but also one of the most convenient ways of getting around and exploring Polonnaruwa. Remember to check the condition of the cycles before you pick them up. You can even walk around but it may get a bit tiring or can hire a taxi to go around but they seem like a waste of money in the end.
Places to See Polonnaruwa
Gal Vihara
This place represents some of the most beautiful images of buddha and showcases intricately carved out images of Buddha. This also shows the peak point of the Sinhalese rock carving styles which is a wonder in itself. The place is the best place to see some mind-blowing works of art.
Buddha Statue at Lankatilaka
This place is said to have been one of the most stunning marks of the ancient city that Polonnaruwa used to once be. Surrounded by two tall walls on either sides and with a narrow aisle leading up tot the 14 metre high Buddha statue carved out on a rock structure, this place is definitely worth a visit. Eve if you are not the religious type go there for some peaceful time.
The Quadrangle
Located on the northern side of the royal palace ruins this compact group of ancient buildings of the ancient cities is one of the most remarkable places to visit here. This groups is bounded by walls on all sides and is constructed on a raised area which is well preserved and authentic in its vibe. Each element here is like a work of an expert.
Siva Devale
This particular temple which was built in 10th century is a never to miss structure here. the construction of this building had taken around 7 years and initially it consisted of 7 stories and 1,000 rooms our of which currently only 3 stories and 55 rooms have survived due to the large-scale destruction caused by the invaders.
The Polonnaruwa Tank
This ancient reservoir tank is believed to have been the main source of water for the ancient cities here. there are many tanks in sri lanka but not any one like this. You can plan on a peaceful and relaxing day picnic with your family. It is also a great place to go for sightseeing.
Weather Conditions
Summer – Summer is very scorching hot and the temperature may even cross 30 degree Celsius. it lasts from April to June. Due to the south west monsoon winds some rainfall may also occur during this time in parts like Colombo and galle.
Monsoon – This is one of the best time of the year which is very pleasant as well. The weather is perfect not too hot or cold. The temperature averages to not more than 29 degree Celsius in the months of July to September. The rains are a frequent occurrence during this time of the year.
Winter – This probably the best season if you are looking to travel and explore not only Polonnaruwa but Sri Lanka in general. The wind is cool and the climate in general is hot and dry. However some untimely rainfall may also occur. The lush green landscapes that cover this looks even better after the rain washes over it.
Best Time to Visit
Being located on the eastern side of the island Polonnaruwa is best visited during the months of April or May to September. The western coast along with the hill stations of Sri Lanka should be visited during the months December to march. The wind currents play a very important role in determining the weather and temperature of the island as a whole so you must keep this in mind while planning a trip here.
Food Availability
Exploring the beautiful ancient city of Polonnaruwa would make you hungry which you can satisfy by gorging on some delicious local cuisines. Try the authentic food items and snacks here in restaurants that line this place. You can have some delicious Sri Lankan curries like mango and eggplant, soups etc. you must try the seafood collection here since it is prepared in some of the most delectable manner along with flavours of coconut.