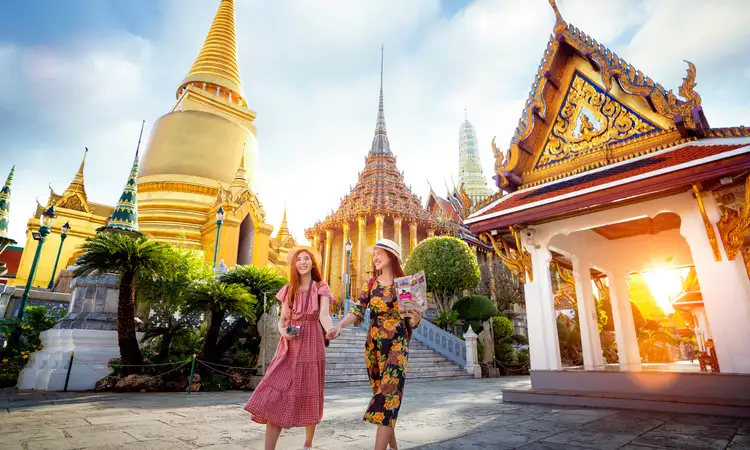 Tour Overview
With our 8 Days and 7 Nights Thailand-Vietnam-Cambodia tour, explore some of the untouched places of the world and get some spiritual inspiration of life. Thailand, a destination which is famous for its life-size royal palaces and tropical beaches, will offer you the best time of your life and also, gives you the exposure to its scrumptious dishes that the whole world talks about.
Trip Highlights
Explore the Damnoen Saduak Floating Market and shop for souvenirs.
A visit to the Death Railway Bridge in Kanchanaburi.
Explore the spiritual temples of Angkor Wat.
Visit the Mekong Delta Region.
Tour Itinerary
- Thailand, Vietnam and Cambodia Tour
Day 1 :Arrival in Bangkok, Thailand
Upon your arrival at Bangkok Airport, you will be greeted by our tour representative who will guide you along your journey in Thailand. He will first, escort you to your hotel room in Bangkok where you will perform some check-in formalities and later, enjoy an overnight stay. Hopefully, you get rid of the jetlag.
Day 2 :Explore the Damnoen Saduak Floating Market
In the morning, first, you will enjoy some famous Thailand cuisines in your breakfast and then, you will proceed with you Damnoen Saduak Floating Market day tour.
Damnoen Saduak Floating Market is a 32 km long floating market where you can shop some authentic souvenirs. You can also savor some of the famous dishes of Thailand in this market and apart from that, day-to-day supplies are being sold here at this market.
Next, you will visit the Kanchanaburi is a very famous town in the western part of Thailand and is made famous by movies. The town is popular because of its Death Railway which was built during the WWII – The Bridge on the River Kwai. It is acknowledged that the Japanese forced its many prisoners to build this bridge but most of them died due to disease outbreak, maltreatment. So, the bridge holds a very historic journey and which is why many tourists come to realize its disturbing history.
Later in the evening, you will head back to your hotel room for an overnight stay.
Day 3 :Bangkok City Sightseeing Tour – Fly to Saigon
After having breakfast, you will proceed towards your Bangkok sightseeing tour. You will visit places like Grand Palace – a golden palace which was the official resident of the King of Siam and now, serve as a major tourist attraction, Wat Phra Kaew – only a distance away from Grand Palace stands a temple in which an Emerald Buddha is worshipped, Wat Pho Temple – a temple on the south of Grand Palace which has a reclining Buddha as a deity. You will also explore the canals of Thailand via a boat.
In the afternoon, you will leave for Saigon, Vietnam. On reaching Saigon, you will follow all the check-in formalities and later, enjoy the rest of the day by relaxing.
Day 4 :Saigon Sightseeing Tour
After Breakfast, you will proceed with your Saigon (which is now famously called as Ho Chi Minh) city tour. You will first visit the War Remnants Museum where you can learn how war disturbs the civilian's life. US artillery pieces, bombs, vehicles are being displayed in this museum and many portraits which will suggest you about the US atrocities.
In the afternoon, you will explore the other half of the city by visiting places like Notre Dame Cathedral – constructed by a French Colonist is one of the largest cathedrals in Southeast Asia, Old Saigon Post Office – a Neoclassical architectural site that many tourists come to visit, Reunification Palace – home of the southern part of Vietnam's President, Cholon – Vietnam's very own China town for souvenirs and scrumptious dishes.
Later in the evening, you will be transferred back to your hotel room for an overnight stay.
Day 5 :Mekong Delta Tour – Departure for Siem Reap
In the morning, when you will finish your breakfast, you will leave for the Mekong Delta day tour via a privately shared vehicle. Mekong Delta is the most picturesque part of Vietnam and is home to many floating villages and market where you shop and also, eat some delicious meals here. First, you will explore the Vinh Trang Pagoda which is a Buddhist temple decorated by broken pottery pieces and is sprawled over a very large area that also has many fruit trees.
Then, you will take a boat ride to explore the stilt houses, fishing villages, and fruit plantation of Mekong Delta region. The journey will take you to many beautiful and scenic sight that can capture in your camera.
Later in the afternoon, you will leave for Siem Reap and enjoy an overnight stay there.
Day 6 :Explore the Beautiful Temples of Siem Reap
After breakfast, you will enjoy the spiritual tour of Siem Reap. The Khmer architecture still dominates the tourist influx of Cambodia in many ways as the country registers highest number of tourists every year with an interest to visit the Angkor Wat temple.
You will start with the South gate – Bayon Temple which has about 200 smiling faces carved into the temple's walls. Next, explore Ta Prohm Temple where the temple walls are entirely engulfed by the tree roots and that's what the most striking feature of this temple. Finally, explore the Angkor Wat, a UNESCO site that attracts millions of people everywhere and register its picturesque beauty. You will also enjoy a surreal view of the sunset by sitting atop the terrace of this temple.
Day 7 :Visit the Tonle Sap Lake and Ride on the Ox Cart
After breakfast, you will visit the Tonle Sap Lake which is Southeast Asia's largest freshwater lake and enjoy a surreal view here. Then, you will hop on an Ox cart boat to explore some more famous lakes of this country and also, to see the Mangroves Forest area.
Then, you will enjoy lunch at a local Indian restaurant and will be escorted back to your hotel room. After that, the rest of the day is at your disposal to spend the way you like.
Day 8 :Departure from Cambodia
After breakfast, the tour representative will escort you to the Siem Reap Airport from where you follow your onward journey.
Package Includes
Airfare tickets for Vietnam and Cambodia.
Entry tickets to various monuments.
Privately shared vehicle for all the transfer around the three cities.
Breakfast, Lunch, and Dinner comes under this package.
Package Excludes
Airfare tickets to Thailand and from Cambodia.
VISA handling and stamp fee.
Any personal expense fee like camera fee, baggage fee, etc.
Frequently Asked Questions
Q.How much does a trip to Thailand cost?
A. A trip to Thailand can cost anywhere between 30K rupees to 50K rupees.
Q.What language is spoken in Vietnam?
A. Vietnamese is the local language in Vietnam.
Q.What is the cost of flight tickets from New Delhi to Vietnam?
A. The flight tickets can cost from 20K rupees to 25K rupees.
Q.Do Indians need a VISA to enter Vietnam?
A. Yes. Indians require a legit Vietnamese VISA to enter the country.
Q.What are some vegetarian Thai foods I can have?
A. Some vegetarian thai foods are: vegan laab, mixed tofu and veggies, stir fried veggies, pak boong, pad thai etc.
Tour Description
| | |
| --- | --- |
| Duration | 8 Days / 7 Nights |
| Destinations | Bangkok → Saigon → Mekong Delta→ Siem Reap → Tonle Sap LakeRead More |
| Tour Price | ₹ 48,500 /- |
Chat with our Trip Advisor