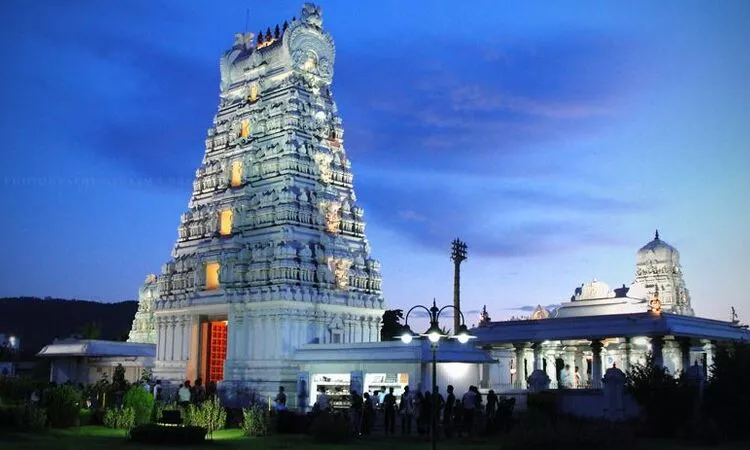 Tour Overview
Tamil Nadu is well known all over the world for being home to numerous temples that hold immense significance in the lives of Hindus. Most of these temples are UNESCO world heritage sites and are definitely worth your time, since the sheer beauty, aura and the might is unparalleled. Not just the temples, the ambience and the multitude of activities that this place has to offer are truly remarkable. Our Tirupati with Mahabalipuram tour package takes you across some of the most whimsical sites in Tamil Nadu that will definitely catch you by surprise.
Best Time to Visit: July to March
Trip Highlights
Spiritual visit to Kapaleeswarar temple
Tirupati balaji temple darshan and visit
Visit to the sri Kalahasti temple
Visit to the UNESCO world heritage centre of shore temple in Mahabalipuram
Kailasanatha temple visit in Kanchipuram
Chennai with Pondicherry Tour Itinerary Package
Day 1 :Arrival in Chennai
Upon your arrival in Chennai, you will be escorted straight to your hotel where you will get a chance to relax for a while, before heading out for a small sightseeing trip.
This sightseeing trip of the city will commence with a visit to the spiritual Kapaleeswarar temple, which was built around 7th century CE. Dedicated to Goddess Parvati This temple is well maintained, peaceful and extremely divine in its feel. The temple is situated amidst the busy streets so you won't have to worry about getting food to eat or buying souvenirs.
After the holy darshan, you will be taken to your next devotional destination of San Thome church, which was brought to life by Portuguese explorers in the 16th century. The charm and the dream-like architecture of this church attract several visitors from various religions. It is one of the best maintained and tidy churches in the state.
You will then be taken to the longest natural urban beach in India, Marina. Although crowded, this beach is clean and also contains several food spots offering a range of food items. Take a walk by the beach and experience the magnificent sunset.
You will finally be taken back to your hotel for a comfortable overnight stay.
Day 2 :Chennai – Tirupati (133 Kms / 3 Hours 21 Mines)
In the morning your journey towards Tirupati Balaji will commence.
En route you will be made to visit the Sri Kalahasti temple, which is dedicated to Lord Shiva and situated 36 Km prior to reaching Tirupati. Built in 5th century the towering gopuram rises up to a magnificent height of 120 feet and is one of the most crucial centres of pilgrimage for Hindu devotees and is also known as the 'Kashi of South'.
You will then be taken to your destination of Tirupati Balaji temple, which was constructed in 300AD using classical Dravidian architecture against the picturesque backdrop of Seshachalam hills. Your darshan in this temple will be pre-booked so you won't have to stand in the queue for ungodly hours. It is advised for you to wear comfortable clothing and carry some snacks along with you during your visit here. There are no bags and phones allowed inside the temple premises so be sure to leave them inside your car.
After offering your prayers to the lord you will then be escorted back to your hotel, where you will be spending your night.
Day 3 :Tirupati – Kanchipuram – Mahabalipuram
This day will mark your journey towards Mahabalipuram, and en route you will be taken to some of the most highly revered temples in Kanchipuram. Here you will visit the famous Kailasanatha temple, which is the oldest structure in Kanchipuram and was built in 685 – 705 AD. All the 58 shrines present within the premise is dedicated to various forms of Lord Shiva. The entire temple is adorned with intricate carvings and impressive sculptures.
Next stop at Kanchipuram will be Vaikunda Perumal temple, which is known for its magnificent architecture and is dedicated to Lord Vishnu along with being one of the 108 divya desam. One of the most spectacular features of the temple is the fact that there are no pillars in the temple and the roof is rested on the walls of the temple's large assembly hall which is decorated with holy inscriptions. It is not a large temple and won't take long to offer your prayers here.
Finally, you will be taken straight to Mahabalipuram and upon your arrival there you will be taken on a small local sightseeing trip of the city starting with a visit to the famous shore temple.
Situated by the beautiful shimmering sea, this temple gives a panoramic view of the endless horizon. It is one of the oldest stone temples in the entire South India, this UNESCO world heritage site is a must visit. Be sure to carry caps to take refuge from the harsh sun.
Your next stop here will be the famous site of Pancha Rathas which is a blissful oasis for architectural enthusiasts. This UNESCO world heritage site has 5 structures dedicated to the 5 Pandava brothers and each of these monolithic structures resemble a chariot (Ratha) hence the name.
Finally, you will be escorted to your hotel where you will relax and prepare for the next day.
Day 4 :Mahabalipuram – Chennai (57 Kms / 1 Hour 30 Mines)
Your trip will conclude today when you will be transferred by road to your destination of either railway station or airport.
Package Includes
Guided sightseeing tour
Pick up and drop off service
Meals as per itinerary
Accommodation as per itinerary
Driver allowance, parking charges, fuel price
Package Excludes
Any expense of personal nature
Extra charges in case of an emergency
Shopping, laundry, tipping, portage
Monument entrance fees, camera charges
Anything not in the inclusions section
Frequently Asked Questions
Q.Which is the best way to reach Mahabalipuram?
A. The nearest railway station to Mahabalipuram is Chengalpattu junction. After reaching the station, tourists can hire a cab to reach Mahabalipuram which is 29 kms away.
Q.When is the best time to visit Mahabalipuram?
A. October to February is the best time to visit Mahabalipuram.
Q.Which god is worshipped in Tirupati?
A. Lord Vishnu is worshipped in the form of Venkateswara in Turipati.
Q.Why is Tirupati considered to be extremely powerful?
A. Lord Vishnu himself is believed to have transformed himself into a stone at Tirupati making the idol here extremely powerful.
Q.Which month is best to visit Tirupati?
A. July to October are the best months to visit Tirupati.
Tour Description
| | |
| --- | --- |
| Duration | 4 Days / 3 Nights |
| Destinations | Chennai → Kanchipuram → Mamallapuram → Tiruvannamalai → PondicherryRead More |
| Tour Price | ₹ 45,900 /- |
Chat with our Trip Advisor