Before leaving for a trip to Thailand, one might certainly imagine seeing historical temples, going on adventurous hikes, and of course, eating delicious authentic Thai food. And as seen in western Thai restaurants, there are always vegetarian options such as tofu curry, vegetable pad thai, or som tum.
However, this expectation does not hold up in the native country, and could lead to a vegetarian feeling ultimately defeated and hungry. In Thailand, the word "vegetarian" refers to someone who can eat fish, but does not consume meat, dairy or eggs. This can be quite confusing when ordering a vegetarian meal, and then proceeding to get a meal with full- sized shrimp, fish eggs, fish sauce etc. Despite this inevitable possibility, there are some helpful precautions one can take to avoid this confusion and dissatisfaction.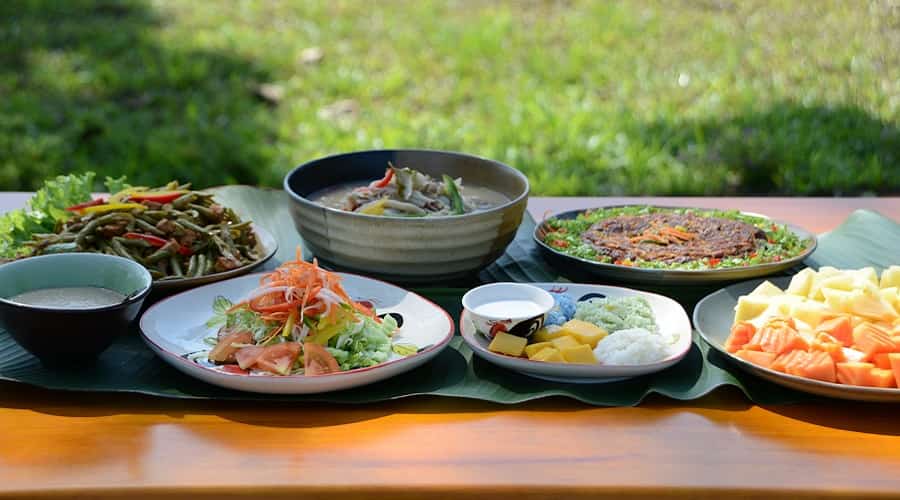 How to Avoid Confusion:
Taking a picture of a vegetarian meal, such as a stir-fry with vegetables or vegetarian pad thai will ensure that there is no meat in the dish. Pointing to a vegetarian meal on a menu also works, although the menus are usually in Thai outside of the touristy areas.
Then it is imperative for one to learn the words "mai" which is pronounced as "my," as well as "pla" which is pronounced as "blah." After showing a picture of the vegetarian dish, state "mai pla," which translates to no fish, as there is fish and fish sauce in almost every vegetarian meal.
And if all else fails, a café will usually always have a vegetarian option and will also most likely have a great cup of coffee. Many of the cafés have salads, eggs, and toast, which are slightly westernized, but can be a necessary source of protein and general nutrients.
There are also certain areas of the country that are more veggie friendly than others. Many of the smaller villages and cities such as Nam Phong and Khon Kaen city do not have many vegetarian dishes, whereas other places such as Chiang Mai are notorious for their multitude of options.
And a final tip, plan for comfort but prepare for compromise. The sights may be more memorable than the food that day, so it may be important for one to stock up on protein bars or buy some street fruit.