The southern state of Tamil Nadu is home to some of the most unique heritage and culture that cannot be found elsewhere. Every nook and corner of the state is filled with awe, be it the towering temples which can be spotted from far away or the delicious south Indian delicacies, whose fragrance encapsulates the air, any and almost every aspect you encounter here is very unique in their own beautiful way. Every day spent here is sure a bliss and admiration for the bygone era which is well preserved and mingles perfectly with the changing modern era.
Tamil Nadu is also the perfect place to experience the spirituality of India. Here are the top 25 temples which will fill you with a deep love for the higher power above:
Brihadeeshwarar Temple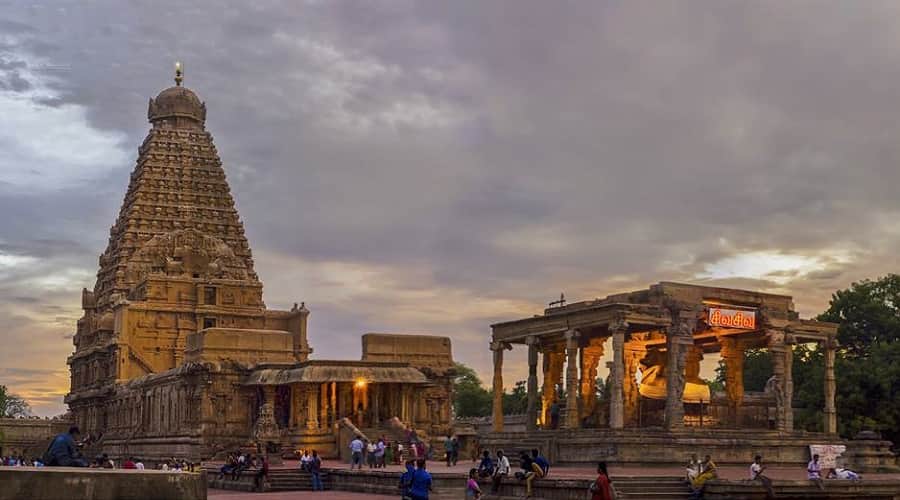 Deemed for being one of the largest and maybe even the tallest temples in India this fine work of expert craftsmanship is truly a remarkable landmark of Tamil Nadu. This iconic and legendary temple turned 1,000 years back in 2010 and makes for an experience of a lifetime. Just like most of the places of worship this sacred temple was also a part of the empire of great living Chola and makes for a stunning UNESCO world heritage site as well.
How to Reach – 189 km from Madurai, takes 3 hours of road journey.
Things to Do – Visit Serfoji Sarasvati Mahal Library, Thanjavur Royal Palace and Art Gallery, Schwartz Church.
Meenakshi Amman Temple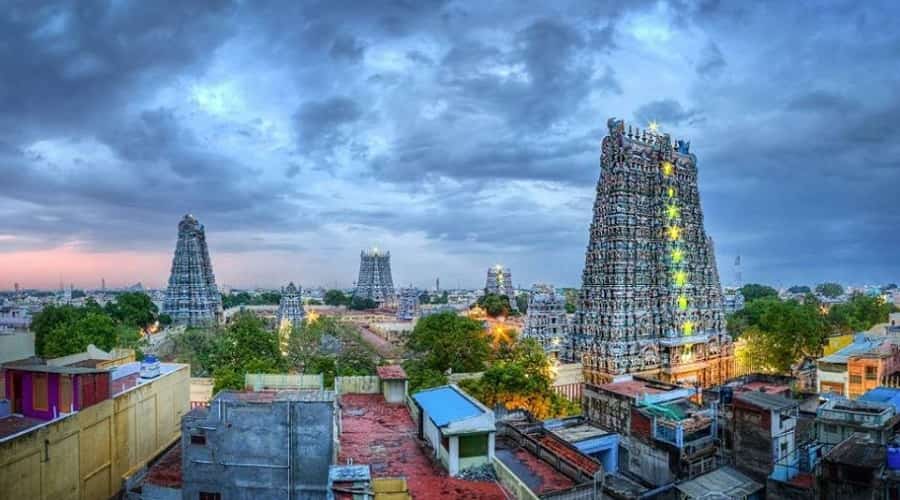 Undoubtedly this is one of the most iconic landmark temple that dominated the horizon of the state of Tamil Nadu. Adorning the holy river of Vaigai River the temple is known for its towering Gopurams or gateway which has also given it the name of temple towers. Surrounded by 14 tall Gopurams if you don't happen to visit this place then your Tamil Nadu exploration remains incomplete.
How to Reach – 1.7 km from Madurai railway station, takes 10 minutes of auto rickshaw ride to reach.
Things to Do – Visit places like Vaigai Dam, Gandhi Memorial Museum, Thirumalai Nayakar Mahal.
Shore Temple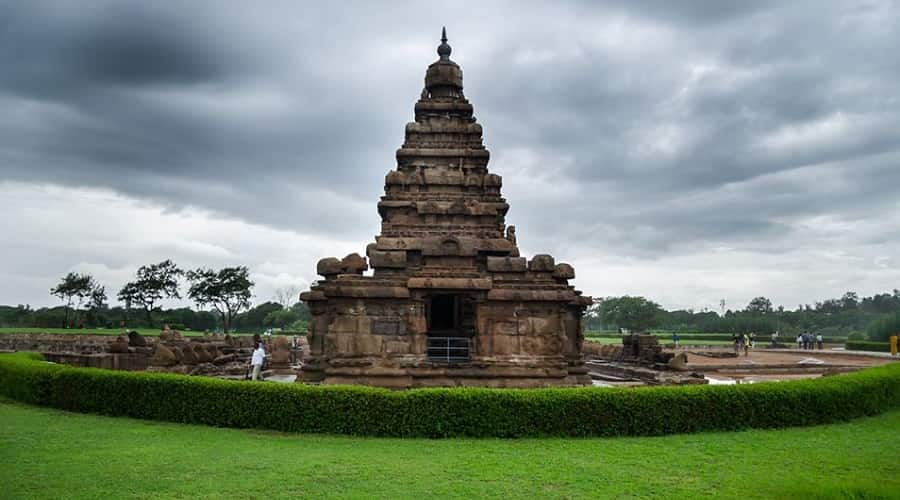 Located in Mahabalipuram or Mammalapuram, this temple is one of the oldest rock cut temples in Tamil Nadu. Standing majestically on the banks of Bay of Bengal the temple is also an ancient and rich architectural work of art. Built and constructed entirely out of granite blocks and a part of the group of monuments, this temple is filled with awe inspiring and skillful works of craftsmanship which cannot be replicated anywhere else in the world today.
How to Reach – Bus / taxi services can be availed from Kanchipuram to Mahabalipuram.
Things to Do – Visit Arjuna's Penance, Cave Temples, Crocodile Farm, Krishna's Butterball, India Sea Shell Museum.
Annamalaiyar Temple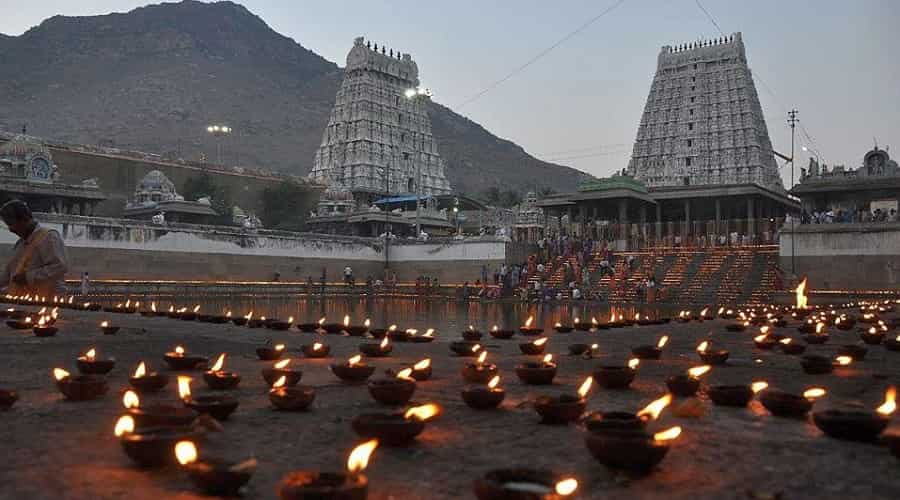 Adorning the base of the hills of Annamalai this ancient Shiva temple is one of the largest temple complexes in India. This place welcomes devotees from all over the world from 4 of the tallest gateways or Gopurams. Apart from the main temple shrine there are numerous sacred places of worship located within the temple complex itself so one can spend a whole day there. The temple remains thronged with pilgrims and devotees throughout the year.
How to Reach – 7 hours of us journey from Chennai via Coimbatore and Vellore.
Things to Do – Visit Virupaksha Cave, Parvathamalai Hills, Annamalaiyar Temple View Point, Skandashramam.
Gangaikonda Cholapuram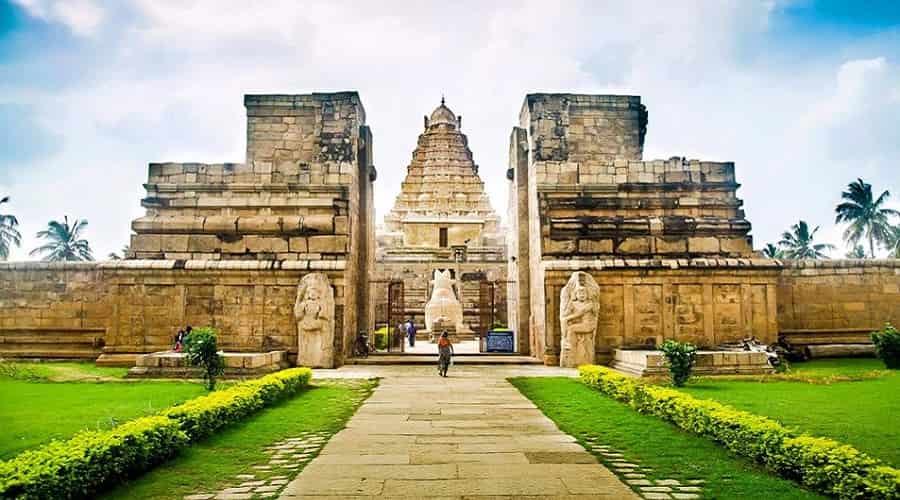 Situated near the holy city of Thanjavur and known for its marvelous architecture and top notch skillful engineering that has gone into its making. The temple is very huge and massive which attracts Shiv Bhakts and devotees from all over the world to experience the gratitude of the lord. The defining feature for temple is the large Nandi bull statue located here is the largest one in India which is definitely worth a visit.
How to Reach – Neyvli airport is the nearest one to the temple at a distance of 43 km.
Things to Do – Visit Srimushnam, Sarangapani Temple, Mahamaham Tank, Yercaud, Pichavaram.
Ramanathaswamy Temple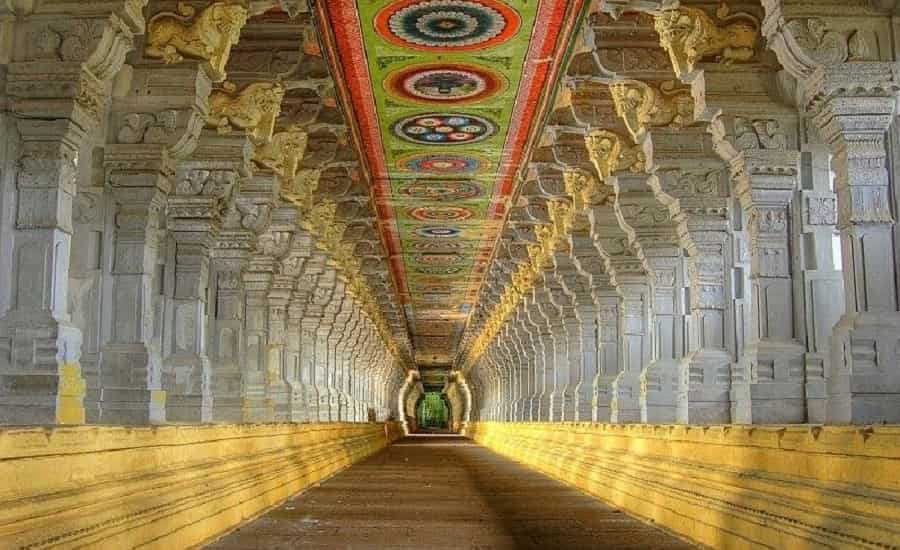 Deemed for being one of the holiest arts of the famous Jyotirlingas of Lord Shiva which is spread all over the country, this temple is truly a landmark and a prominent face of architecture in Tamil Nadu. The iconic feature here is that it has the longest corridor among all the other Hindu temples of India while the outer corridors here is the longest in the world. Located on the island of Rameshwaram this temple is also a part of the all India Char Dham Yatra.
How to Reach – 2 km from Rameshwaram bus stand; Madurai is the nearest airport which is 175 kms away from the temple.
Things to Do – Visit Agniteertham, Hanuman, Kalam Sea Shell Market, Former House of Kalam.
Ucchi Pillayar Temple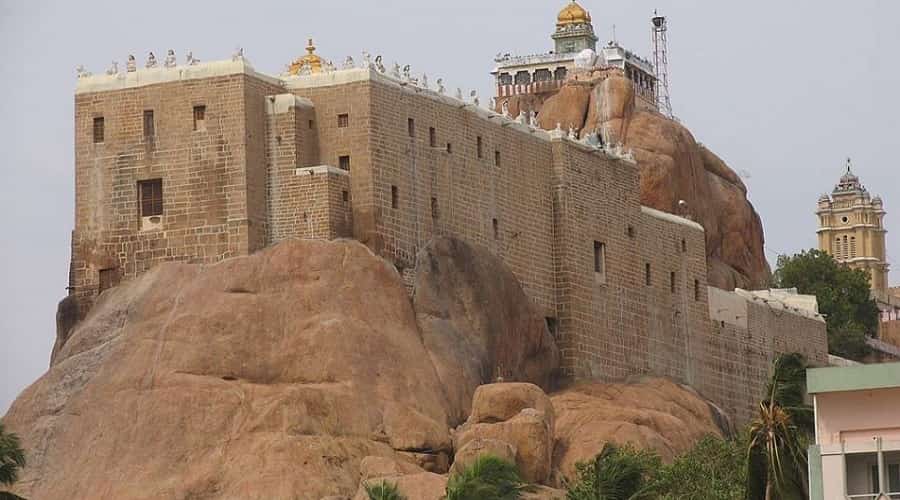 This is one of those rare temples dedicated to Lord Ganesh which is located on top of the hillock called Rockfort. Situated within the sacred city of Tiruchirappalli this temple is very famous place of worship for Ganesh. Reaching on top of the hill up to the main shrine is a very soulful experience and one can easily get a fantastic view of the whole city below which is extremely rejuvenating.
How to Reach – 16 km of road distance from the international airport at tiruchirapalli.
Things to Do – Visit Manjolai Hills, Athisayam Water Amusement Park, Yelagiri Forest Hills, Nilgiri Mountain Railway Ride.
Murugan Temple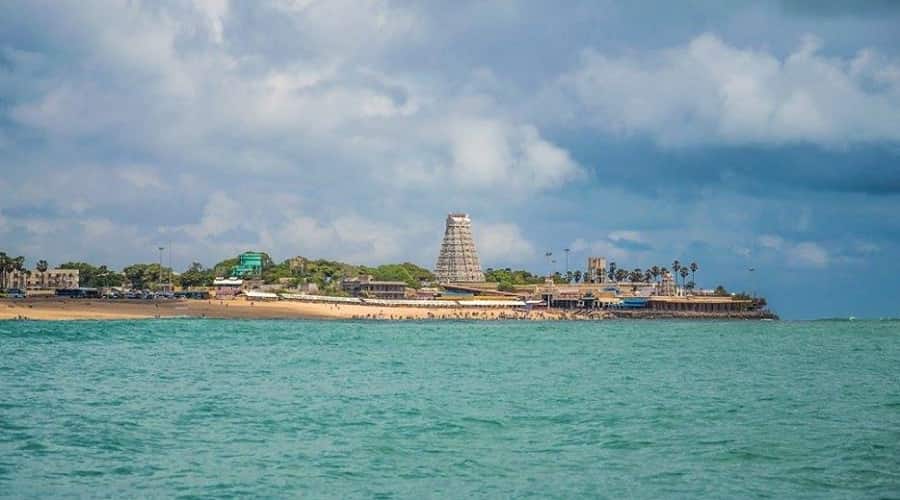 Famous for being one of the most visited temple complexes in India as the name suggests this place of worship is dedicated to lord Murugan. As far as the area of the temple is concerned, it is deemed for being the largest complexes in India. Located in Thiruchendur this temple boasts f incredibly finely and richly carved out Gopurams and towers which tells various mythological stories in imagery form. It is truly a very blissful experience and should be visited at least once.
How to Reach – 2 to 2.5 hours of road journey distance from Chennai by railway. 
Things to Do – Visit Cholamandal Artist's Village, Sri Nageshwar Temple, Ranganatha Temple, The Rajiv Gandhi Memorial.
Ranganathaswamy Temple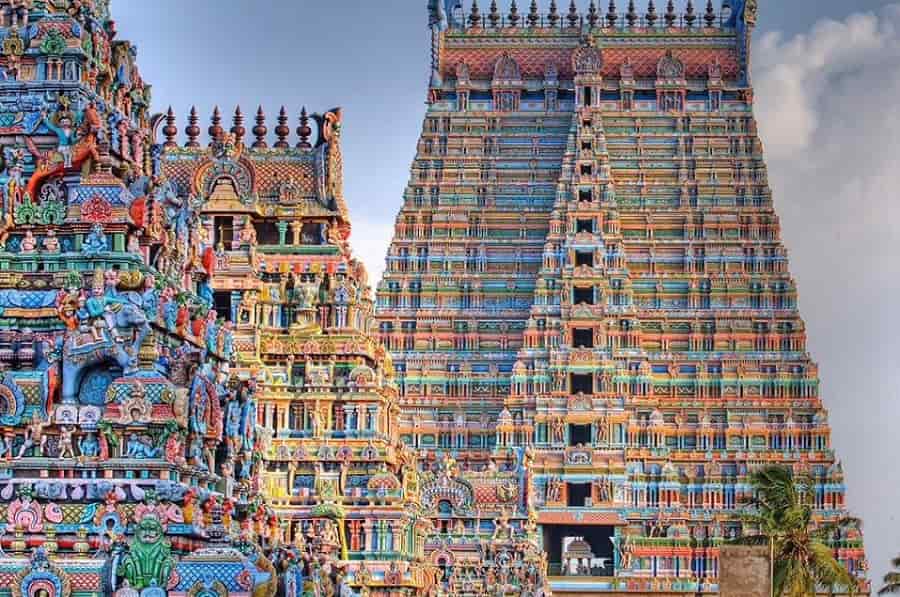 Famous for being the largest functioning temple in India which is dedicated to Ranganatha temple is situated in Srirangam, one of the holiest cities of India. This temple is a treat for not only the eyes but also for the mind, soul and heart which makes a visit here worth every second. The temple resonates with the spiritual and devotional vibes. Also famous for its largest area in the world it is a great way of experiencing the positivity that is held in this temple.
How to Reach – 14 km of road journey from Mysore which can be reached by road.
Things to do – Rock Fort Temple, Sri Ayyappan Temple, Jambukeswarar Temple, Kallanai Dam.
Thillai Nataraja Temple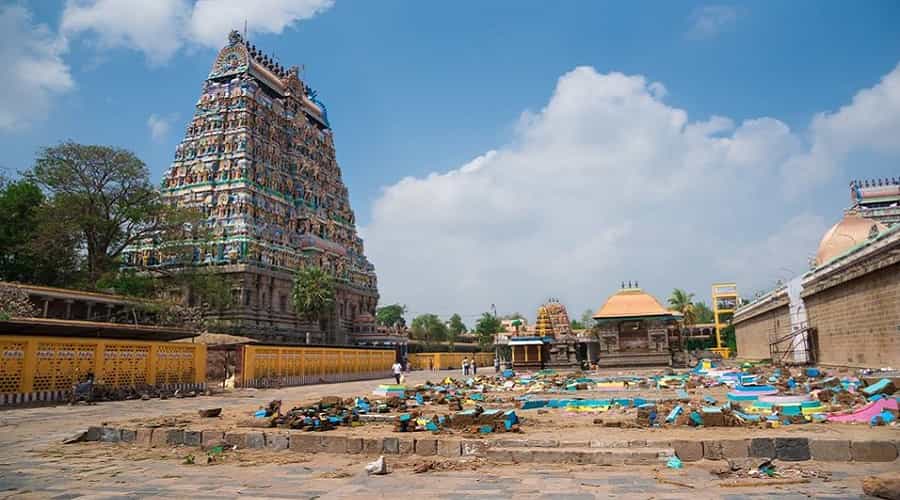 Located in the holy town of Chidambaram, this Shiva temple is definitely one of the most prominent landmark features in Tamil Nadu. Spreading out over an area of around 40 acres within the heart of the city this one of the 5 Pancha Bootha Sthalam represents the 5 elements of the earth and is one of the most spiritual and iconic sacred shrines and places of worship. The entire place is filled with a very peaceful aura and vibe.
How to Reach – 2 kms from Chidambaram bus station.
Things to Do – Jalagamparai Waterfall, Yelagiri adventure camp, Manjolai hills visit and exploration.
Jambukeswarar Temple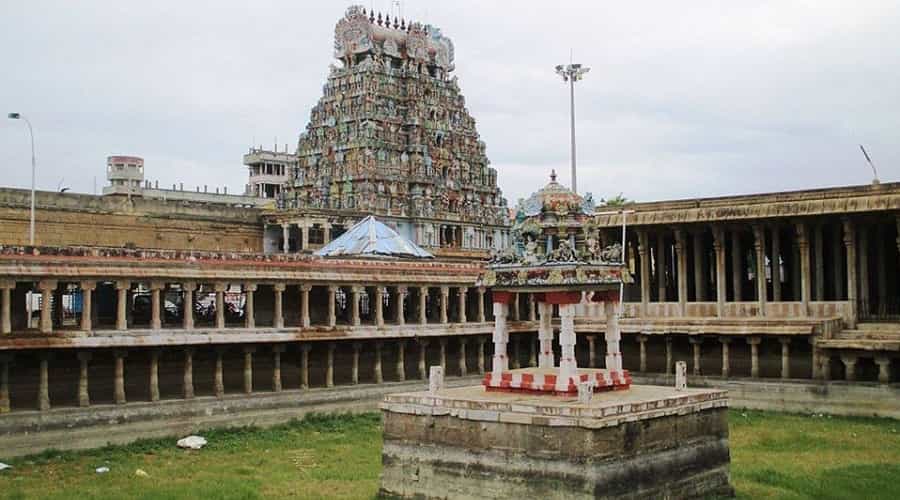 Shiva worship in south India is observed almost everywhere and the presence of Jambukeswarar temple makes this fact true. Located in the sacred city of Tiruchirapalli within the island of Srirangam, this temple represents the most important element in the world i.e. water which is marked by the presence of a small and invisible water stream that goes underneath the temple. This is truly a heritage site and is a must visit.
How to Reach – 8 km of distance from the bust stand in Trichy.
Things to Do – Chettinad, Vayalur Murugan Temple, Mukkombu, Vekkali Amman temple.
Uppiliappan Temple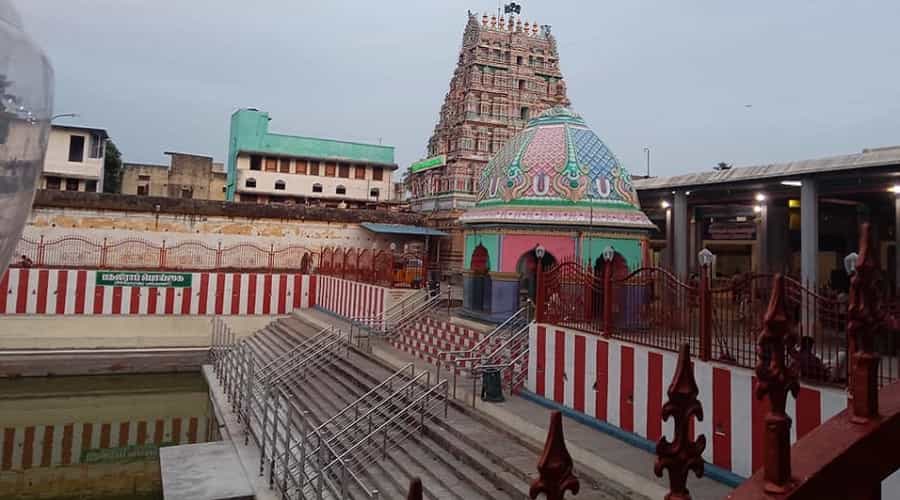 Located in Kumbakonam Taluk and famous for being one of the most highly revered temples of lord Vishnu not only in South India but also in the entire subcontinent, this place remains thronged with Vaishnavites and Hindu pilgrims throughout the year. The entire temple complex consists of various small and medium shrines and even all the holy water bodies associated with it. The temple can be seen from far away and a visit here definitely rejuvenate you from within.
How to Reach – Located in Thanjavur near the city of Kumbakonam.
Things to Do – Abirameshwarar Temple, Ramaswamy Temple, Brahma Temple, Bhagavatha Padithurai Ghat.
Ekambareswarar Temple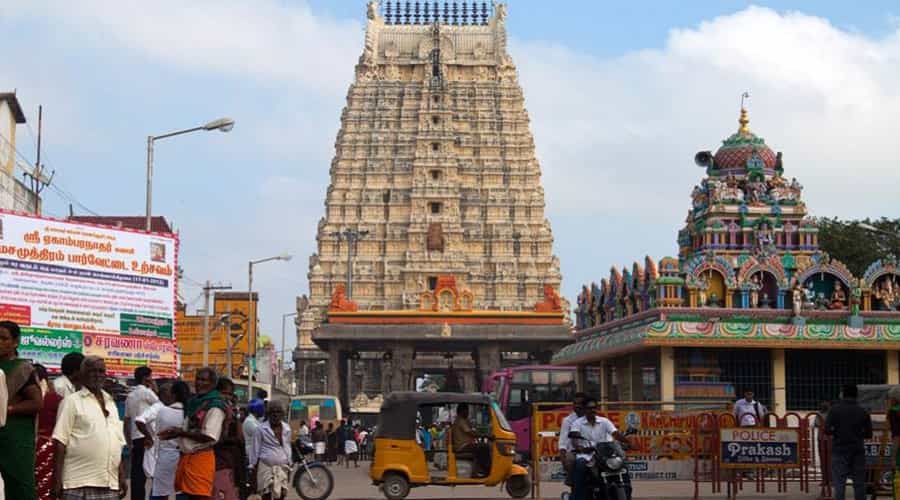 Considered to be the holiest Shiva temple in South India and a famous place of worship for all Shiv Bhakts this temple is adorned in the holy town of Kancheepuram. Famous for containing the tallest Gopuram or gateway in India and the largest temple in all of Kancheepuram this place of worship is also one of the greatest representations of pristine architectural marvel in the world. It is a must visit if you truly want to feel the devotional and spiritual vibe here.
How to Reach – 13 minutes of walking distance from EMU in Kancheepuram.  
Things to Do – Visit Kamakshi Amman Temple, Kailasanathar Temple, Varadharaja Perumal Temple.
Sripuram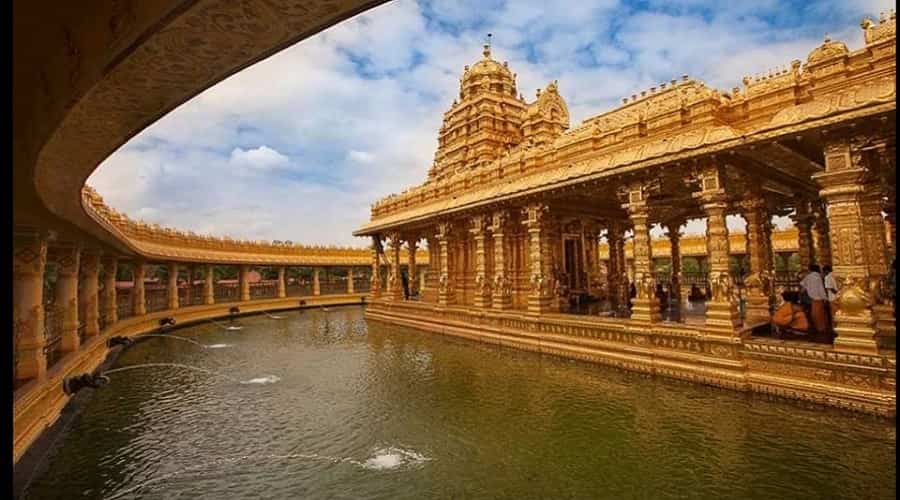 Located at just a distance of 10 kms from Vellore this place of worship is also referred to as the golden temple which is dedicated to goddess Mahalakshmi. This famous temple of Tamil Nadu is made out of 1500 kgs of pure, glimmering stunning gold which reflects from far away. Built and panning over an area of around 100 acres every nook and corner here is filled with a very deep sense of spirituality and devotion.
How to Reach – 10 kms from Vellore railway station.
Things to Do – visit Palamathi Hills, Vellore Fort, Jalakandeshwarar, virinjipuram Temple.
Vaitheeswaran koil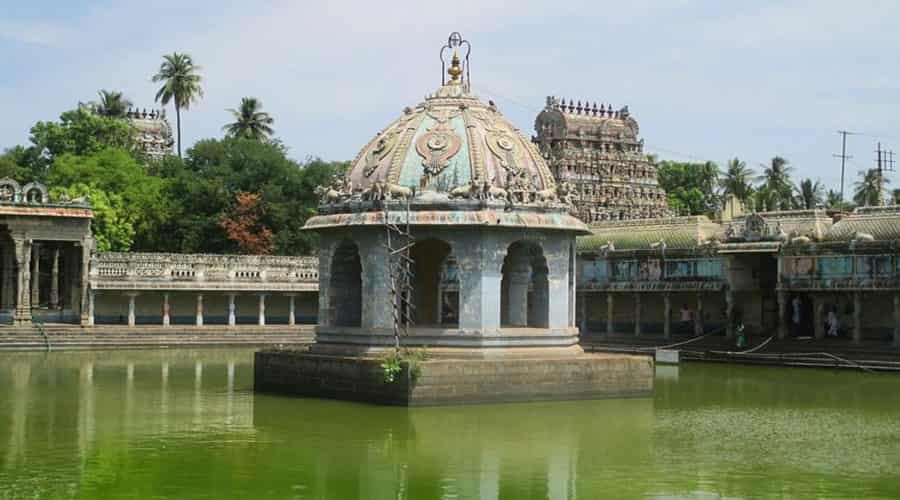 Also known as Pullirukkuvelur temple and surrounded by an incredible sense of peace and love this temple contains the presiding deity of Vaidyanath Swami and Thaiyalnayaki. The significance of the temple lies in the fact that the lingam here is said to have been worshipped by sacred mythological and historical figures like Ram, Jatayu, Skanda and even Angaraka. The beauty here is also very pristine and the aura pure which is very difficult to find anywhere else in the world.
How to Reach – 17 km from Mayiladuthurai.
Things to Do – Visit Kodikkarai Wildlife Sanctuary, Poompuhar Beach, Sattainathar Temple.
Thiruchendar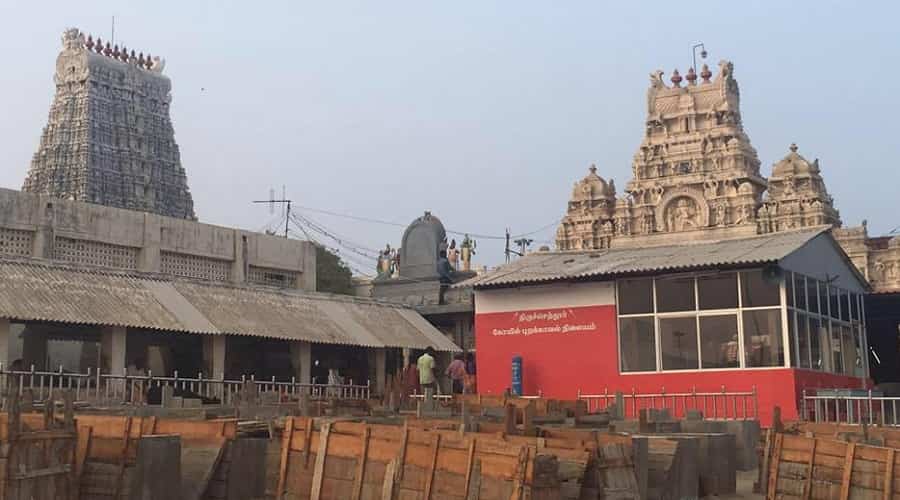 Located on the Gulf of Mannar this sacred and very popular pilgrimage destination is considered to be the 1 out of the 6 battle camps which was prepared by lord Murugan himself. He is said to have performed rigorous worship and penance to Lord Shiva right here at this holy place which later on came in handy for winning the war against the demon king Surapadma and it has also found its mention in various ancient Vedic scripts.
How to Reach – Madurai domestic airport is the nearest one to this temple.
Things to Do – Valli Cave Temple, Thiruchendur Beach, Thundi Vinayagar Kovil.
Swamimalai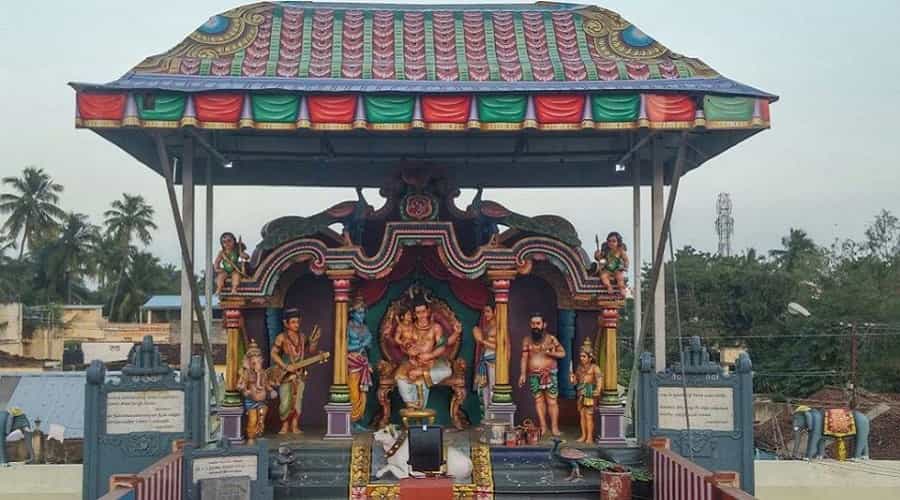 Considered to be one of the most ancient and oldest temples of Swaminathan which can be dated back to 2nd century BC this place of worship is also a very grand and wonderful representation of the pure nature and face of spirituality and devotion in India. The mythological account which has given birth to this sacred shrine is very awe inspiring and holy in nature especially due to its location of next to the holy river of Kaveri.
How to Reach – 9 km from Kumbakonam.
Things to Do – Sri Appakudathan Temple, Arulmigu Swaminatha Temple, Abhi Mukheswarar Temple.
Palani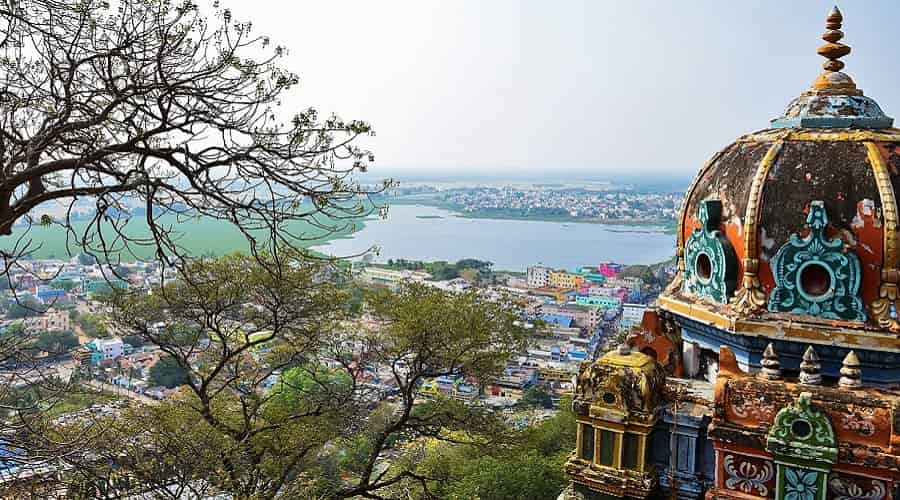 The temple of Palani goes by the name of Pazhaniandavar and is placed at an elevation of 14,00 feet above sea level. From here one can not only have a wonderfully spiritual experience but they can also take a look at the Kodaikanal hills located in its vicinity. The flowing river and the surrounding greenery makes it a wonderful place to be, even if you are not spiritually inclined. Go there for a completely wholesome experience with your family and loved ones.
How to reach – 2 km from the railway station and very close to the murugan temple.
Things to Do – Kuthiraiyar Dam Falls, Idumban Temple, Periyanayaki Amman Temple.
Thiruttani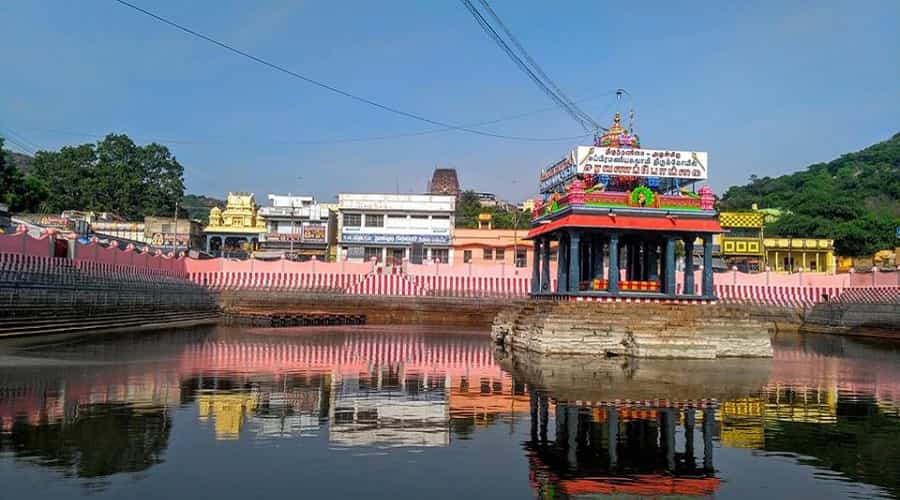 This temple is the place where lord Subramanya had married Valli and has also found its mention in various literary works of the Sangam dynasty. Surrounded by pristine natural beauty and with an atmosphere of positivity and religious inclination this place also represents where Subramanya had stayed after having destroyed the demon Surapadman. It is also located in the sacred destination of Tiruvallur which makes this visit even more interesting and filled with devotion.
How to Reach – 13 km of journey from Arakkonam.
Things to Do – Visit Arakkonam, Sri Subramanyaswamy Temple, Thiruthani Murugan Temple.
Papanasam Temple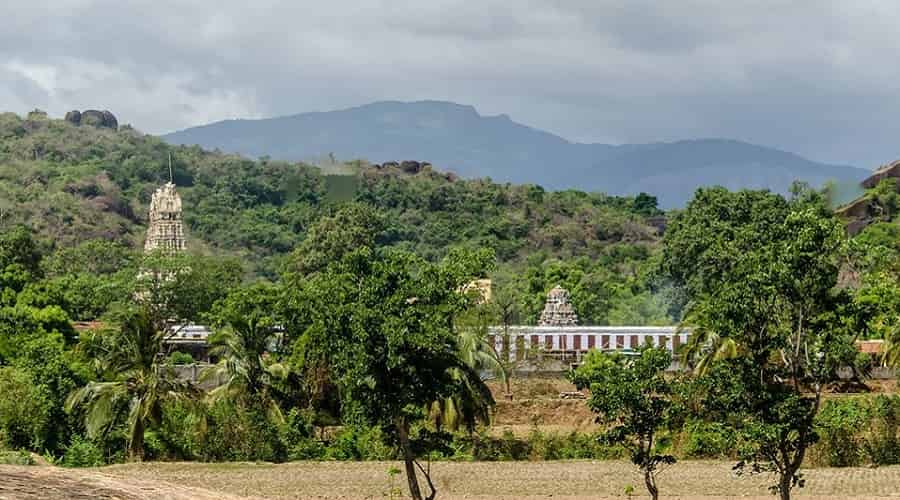 Placed on the banks of the holy river of Thamirabarani River, this iconic temple which seems like it touches the sky is dedicated to Lord Shiva and his eternal consort goddess Parvati. The lingam present here is extremely unique since it is made completely out of Rudraksh. The entire temple just like every other place of worship is made by utilizing the typical Dravidian architectural style. Devotees believe this Shiva shrine to be the most powerful and work towards successfully curing all types of diseases.
How to Reach – 15 km from Ambasamudram.
Things to Do – Agasthiyar Falls, Kalyana Teertham, Banateertham Falls.
Adikesava Perumal Temple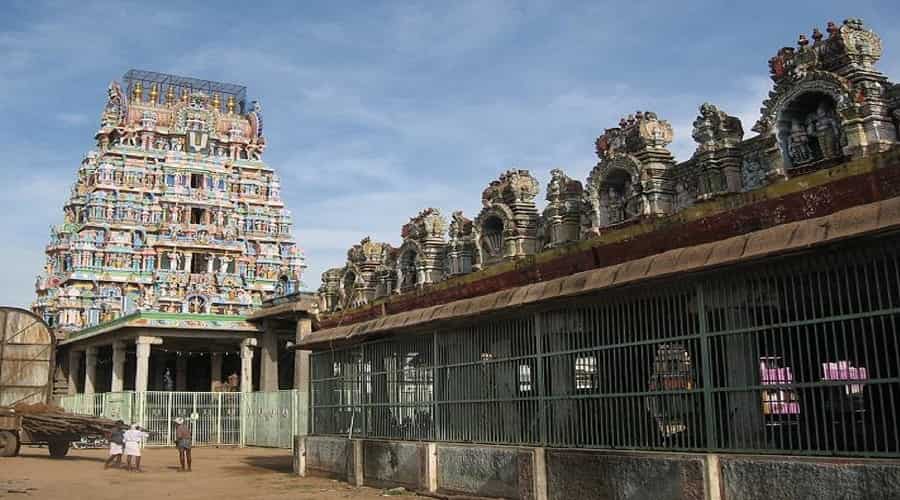 As the name suggests this temple is dedicated to Sri Adikesava Perumal and it translates into foremost friend. Located within the holy region of Thiruvattaru this place is also worshipped as one of the most sacred 108 Divya Desam which makes it a significant place of pilgrimage not only for the Vaishnavite communities but also for the devout Hindus looking to have spiritual experience in Tamil Nadu. Consisting of wooden pillars, doors and roof this structure is made entirely out of Dravidian style.
How to Reach – 7 km from Marthandam.
Things to Do – Visit Kittu Park, Amma Park, Arilmigu Karaneeswarar Temple, Siva Vishnu Temple.
Sri Mariamman Temple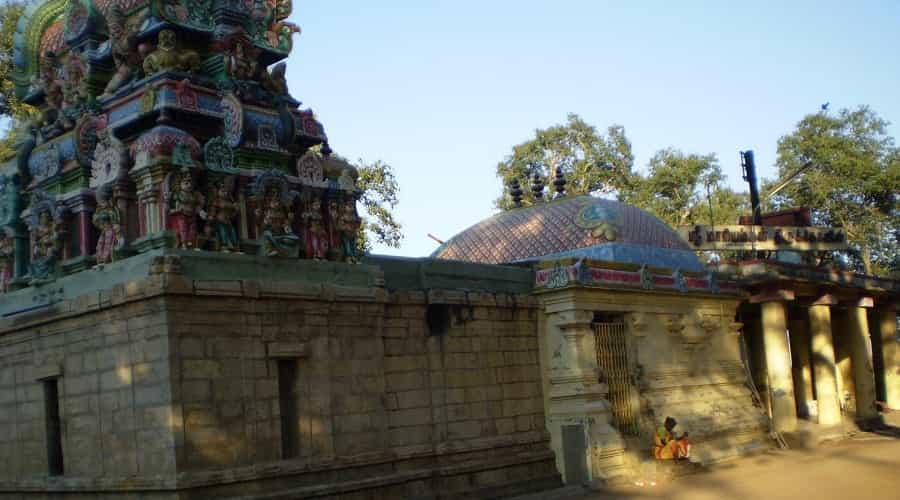 Dedicated to the lord Samayapurathal –an incarnation of goddess Shakti, the entire main sanctum of the goddess is created out of sand and clay. The main deity is so fragile in nature that the Abhishekam is done in a small stone present in front of it. Being a local god it is believed to be extremely nature and possess immense powers that cures all the problems and diseases any of the devotee must be suffering from. The colorful entrance leads the way in to the sanctum which is also heavily decorated and adorned with various ornamentations.
How to Reach – 11 km from Srirangam and 19 km from the city of Trichy.
Things to Do – Visit Railway Heritage Centre, Trichy Rock Fort, Vekkali Amman Temple, Mukkombu, Government Museum in Trichy.