Nepal is probably one of the most well-known oasis for tourists from all over the world. Being a Pandora box for trekking, adventure, off beat experiences and observing peace amidst the natural beauty, Nepal is also very popular for its spiritual value. This beautiful destination where the people are very welcoming and the atmosphere is perfect to indulge in some amazing activities that brings peace to mind, body and soul in all.
One thing which makes this place unique is the religious and spiritual aura which is dominant here. People from all over India and also different parts of the world make it a point to visit this remarkably breath-taking destination to experience the magic of pure spirituality. Nepal is a country where a majority of the people follow Hindu beliefs and tradition along with the 2nd highest being Buddhist followers along with a number of other religions like Christianity, Sikhism, Kiranti and so much more. All this put together makes this place one of the most diverse destinations for experiencing the real magic of spiritualism.
Nepal is undoubtedly one of the most preferred destinations in the world for pilgrimages. The Nepali government and the people here have recognized the value of the pilgrimage sites present here and have made it well connected and easily accessible to pilgrims from anywhere in the world through trains, roads and flights. The entire region is dotted with numerous places for pilgrimages and sacred sites. Given below are some of the most noteworthy pilgrimage sites in Nepal:
Muktinath Dham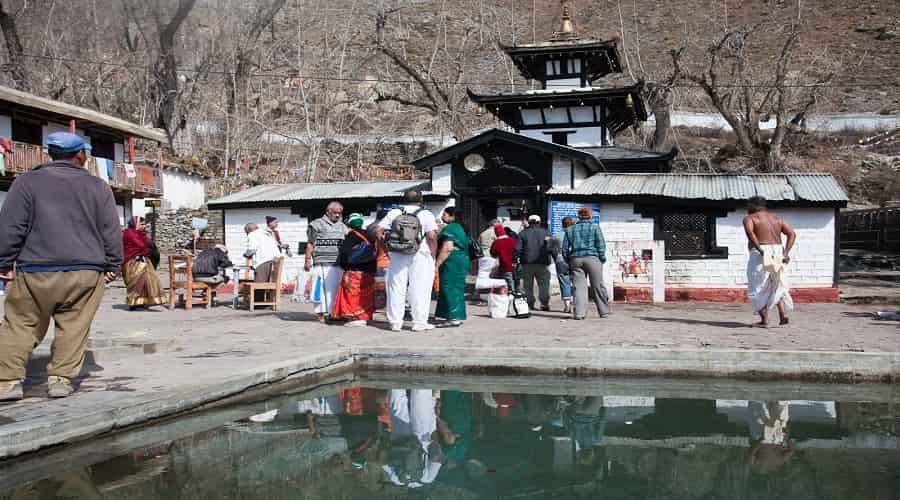 This ancient temple dedicated to lord Vishnu is located in the barren, treeless valley of upper mustang, is one of the most off beat pilgrimage trek in Nepal. People travel great distances to offer their darshan from all over the world to the holy shrine of god of justice or referred lovingly to as Muktinath. The elevation where it is placed and the expansive barren land is like a challenge which a number of devotees brave and reach the temple, the temple in itself is very unique. The courtyard of the temple comprises of an area where there are 101 spouts from which water or the Muktidhara makes its way into the temple. Devotees make it a point to take a holy bath under the chilly waters and attain their salvation.
Pashupatinath Temple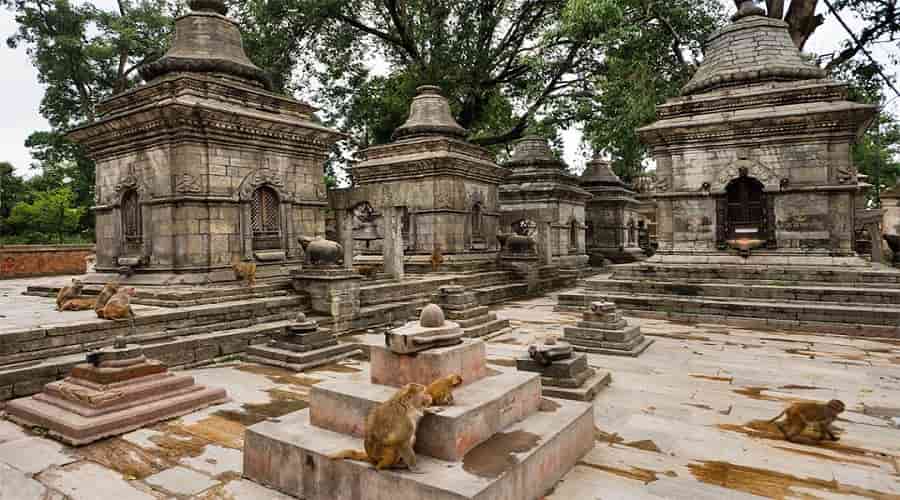 Deemed amongst one of the most remarkable and holiest places of shiva worship this humble and quaint temple is one of the must visit locations in Nepal. This iconic temple forms the face of Nepal and people visit this legendary sacred site to offer their prayer to the Pashupatinath form of lord shiva which also means the lord of animals. Listed among one of the most significant UNESCO world heritage the main building of the was constructed during the 15th century by Lichhavi king known as Shupuspa. The entire complex seems like a playground for people with a spiritual bent of mind since there are around more than 500 small temples.
Lumbini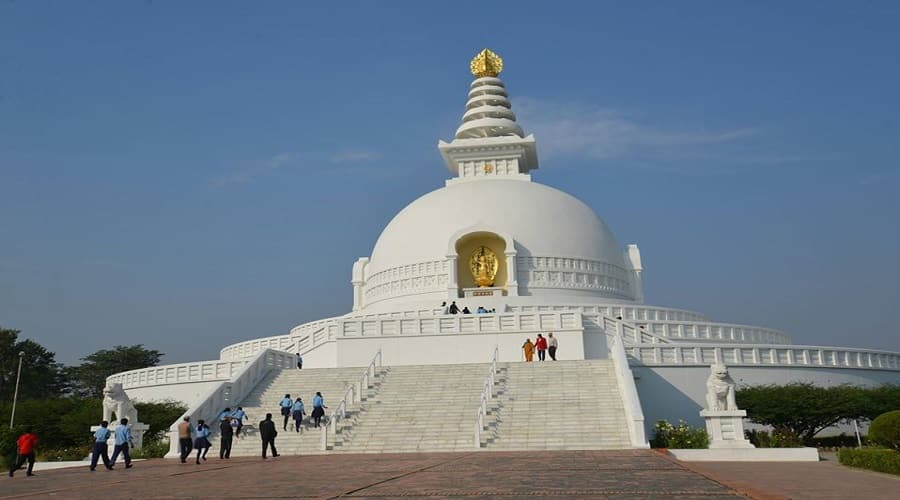 This is one of the most famous places of Buddhist pilgrimages in the world. Declared as a UNESCO world heritage site for being the birthplace of Gautama Buddha, Lumbini holds a very high value for Buddhists and also the people of Nepal. Located within the district of Rupandehi this place has a number of temples that are extremely prominent and significant. Along with the birthplace point the complex also consists of various monasteries, monuments, museum, holy pond and even a research centre. The place is extremely peaceful and gives you an insight into the life and inspiration of Buddha. This holy site is visited by travelers and devotees from all across the globe.
Swayambhunath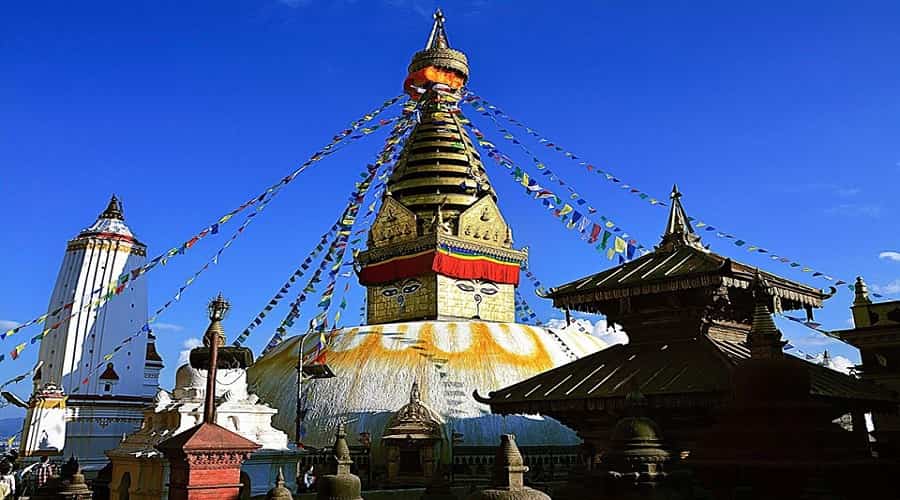 Placed on a hill top towards the western edges of the city of Kathmandu, this stupa is a very ancient religious pilgrimage destination among Buddhists. A visit here will not only guarantee a spirituality filled experience but it is also kind of adventurous to go for this. Surrounded by colorful trees of diverse varieties makes this place a real treat for the eyes, Swayambhunath is not just a place of visit but it is an experience. The entire complex of Swayambhunath have other structures like libraries, monasteries, museums etc. from where you will get to know more about this peaceful religion. This place is mostly visited by Tibetans and Buddhists however due to the presence of various holy centers of Hindu relevance, it is also a popular pilgrimage site for Hindus in Nepal as well.
Boudhanath Stupa Pilgrimage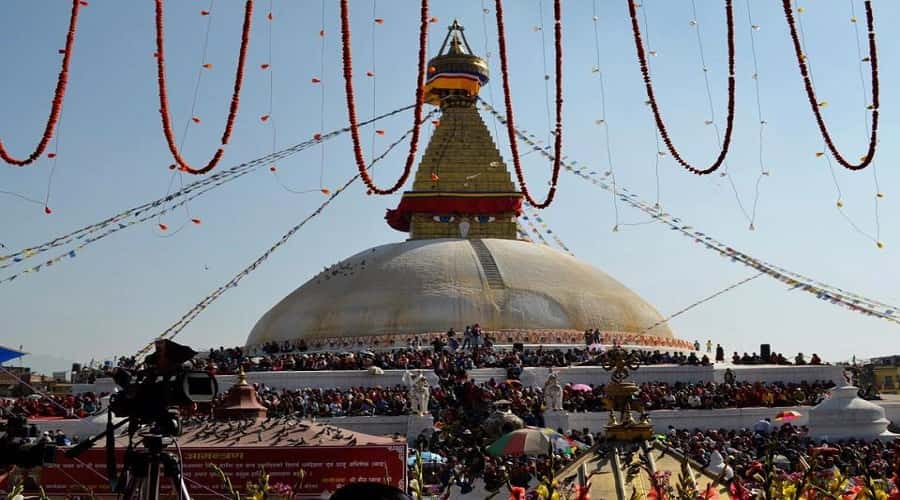 Located on the northeastern part of Nepal and at a distance of around 11 km from the main city centre, this stupa should definitely be visited if you have a day of exploring Kathmandu. This UNESCO world heritage site which is also a very pious pilgrimage location, is also famous for having the largest spherical stupas in Nepal. Due to its wonderful architectural style this place of Buddha worship is truly one of a kind and very unique. Around Boudhanath Tibetans have gotten more than 50 gompas or stupas constructed. Dominating the skyline of Kathmandu you can see its roof from really far away and should definitely be included in your itinerary plan for Nepal.
Budhanilkantha Temple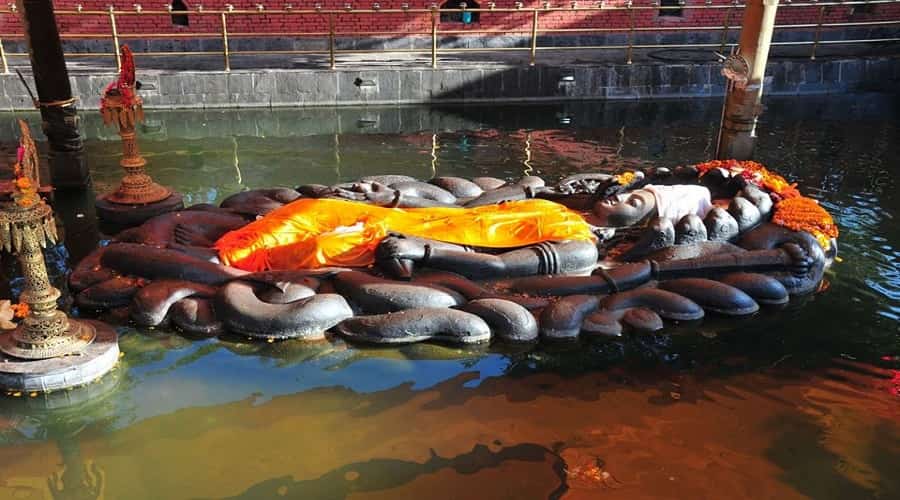 Situated in the locality which goes by the same name to that of the temple, this holy pilgrimage temple in Nepal is very unique in its own way. It is a Hindu lord Vishnu temple which is open air in nature and the presiding deity of lord shiva is extremely distinct. He is carved out from a single block of black basalt and features the lord in a sleeping position and this is also considered to be the largest stone carving in Nepal. The name literally signifies the 'old blue throated one' symbolizing lord Vishnu. The statue is placed in the middle of a water containing pool and is truly a remarkable site making a visit here worth every effort you make.
Halesi Mahadev Temple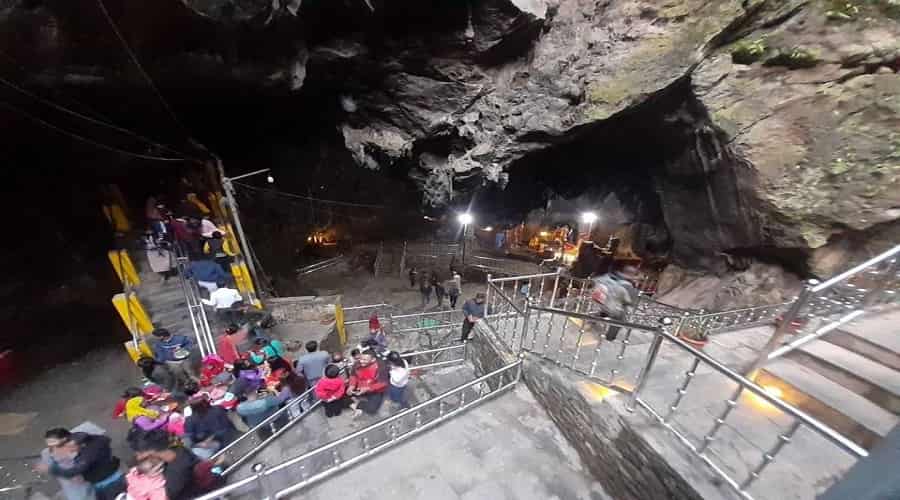 Held at a very high accord by both communities of Hindus and Buddhists this iconic temple is often referred to as the Pashupatinath temple of eastern Nepal. It is considered to be a very spiritual and holy site of pilgrimage by the believers of the community. Located right next to the village of Mahadevasthan on an elevation of around 4,734 metres above sea level and the stunning view you get to Savour once you reach the top is just unbelievable. The main shrine is inside a holy cave which is 67 feet below the surface and is mainly can be reached via a bike or a jeep. As per the legend relating to this place this particular cave was used as a place to hide from Bhasmasura demon and stayed there for a duration of 6,000 years. Its references in holy Himalayan literature can be found to date as far back as 12th century.
Pathibhara Devi Temple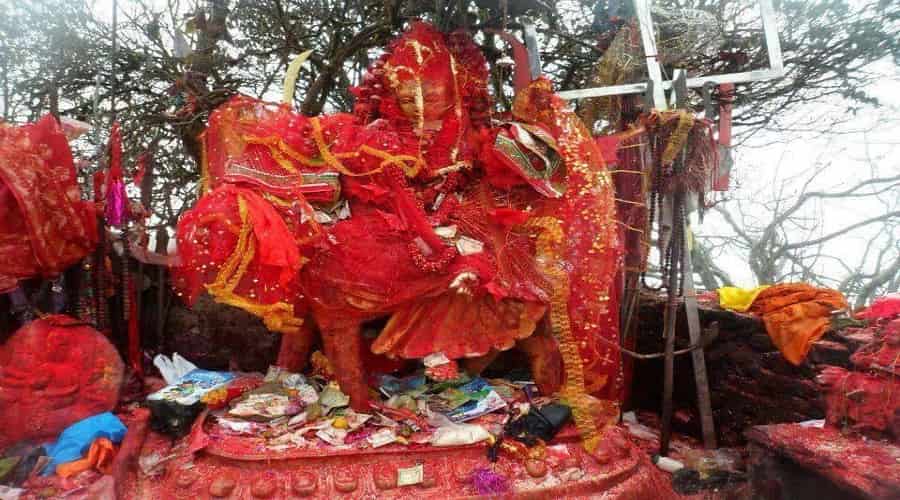 Considered to be one of the most significant temples in Nepal and a very holy site of goddess worship for the community of Limbu people, devotees make it a point to pay their respects to the goddess shrine and especially visit this temple during an auspicious eve. It is a popular belief that anybody who prays with a pure heart and without any ulterior motive then their wishes get fulfilled. It is also believed that the goddess is very easy to please but very unmerciful to the ones whose intentions are not clear. One can reach the temple site with the help of a jeep or a van or even by hiking your way which would be the best way if you are a nature lover.
Kumari Devi Temple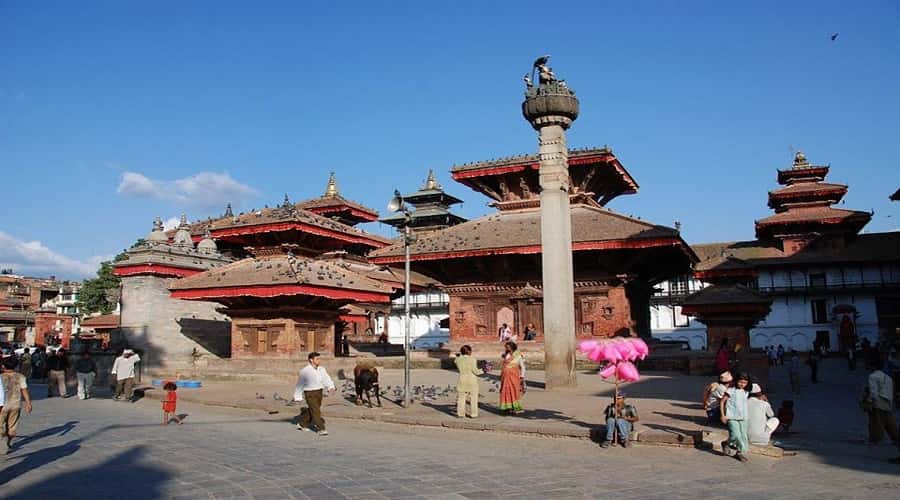 Built in the year 1757 this temple is also known as the house of the living goddess. This temple was made by the ex royal king of Nepal as an act of atonement for causing indiscretion with a Kumari. Located on the southern end of the famous tourist spot Darbar square in Kathmandu the temple is a richly and finely carved out 3 storied wooden structure. people can get a glimpse of the Kumari and offer their prayer to her which is a part of their pilgrimage. She can be seen on the 1st floor window during morning or late afternoon. This Kumari is said to be the incarnation of the highly revered Hindu goddess Durga. Although mostly visited by Hindus it is also considered to be extremely holy by Nepalese locals and Buddhist believers as well.
Manakamana Temple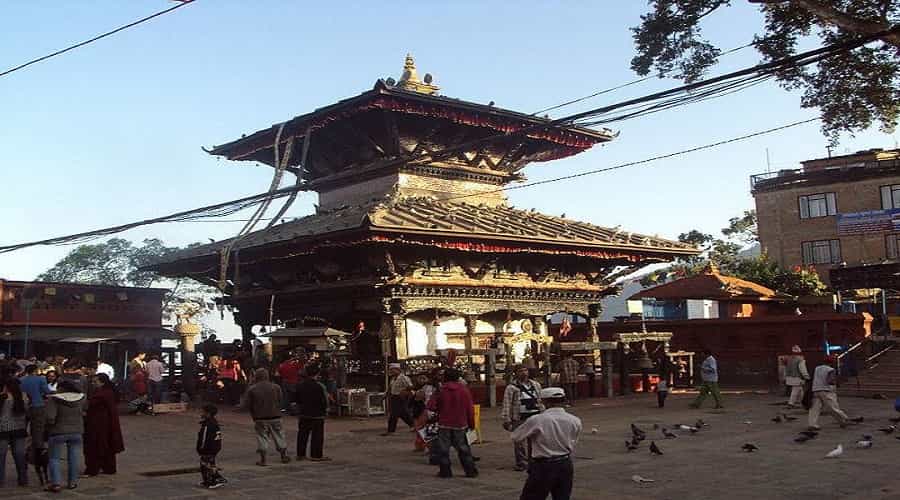 Located within the district of Gurkha in Nepal and dedicated to the incarnation of goddess Parvati known as Bhagwati, this place of holy pilgrimage worship is extremely pious ever since the 17th century. As the name suggests people say that whatever one wishes from with a true and a pure heart the goddess fulfills their each and every wishes. Overlooking the valley of Trishul mountain ranges and 12 km in the southern direction from the main town of Gurkha there can be pilgrims seen regularly throughout the year making their way to this place of worship. One of the most exciting thing about the temple is the journey to reach it which is via a fun filled and thrilling cable car ride through the mystical charming valley below. It doesn't matter if you are looking to have a spiritual experience or for a fun getaway, every step of your way will be totally worth it.
Gosainkund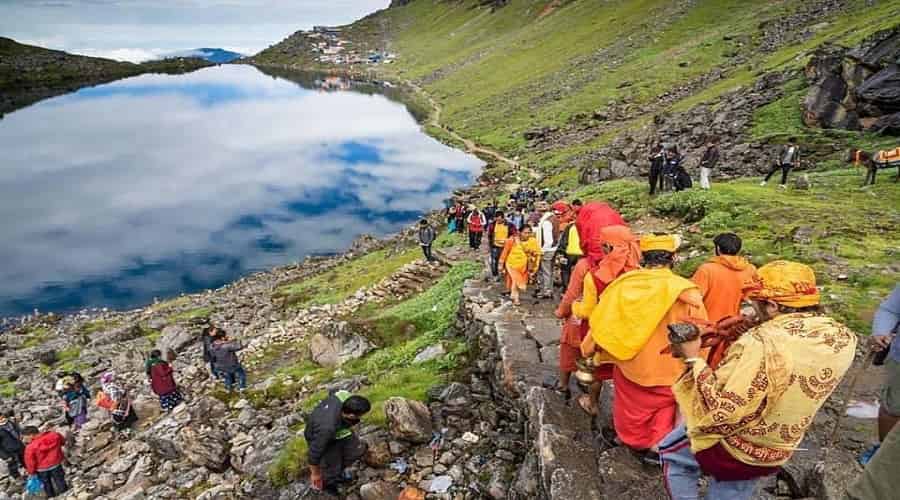 Just like almost every religious place in the world, Gosainkund is located on a very high elevation of around 4,830 metres above sea level. This is a very holy lake and is visited by thousands of pilgrims every year. This high-altitude holy lake is believed to have been created by lord shiva himself who had used his Trishul to carve out this lake on the ground after having swallowed poison. This lake and a legendary place of pilgrim worship remains frozen for a duration of around 6 months and during the holy eve of full moon eve in the month of august, devotees make it a point to walk up to the lake for 2 days from Dhunche and take a holy dip in its water to wash them off their sins. Apart from this it is also a wonderful trekking route for adventure enthusiasts.
Janaki Temple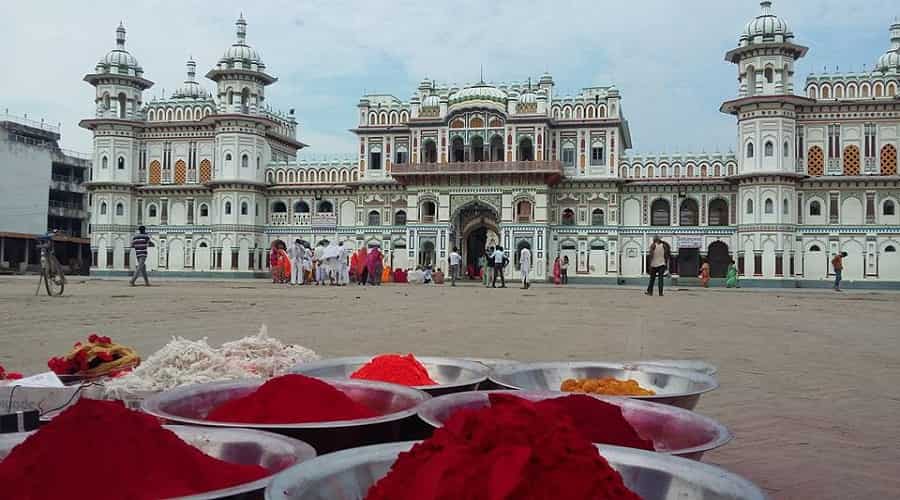 The holy religious town of Janakpur is one of the most famous pilgrimage destinations in Nepal. The culture here is very vibrant and colorful where the ancient temple is dedicated to goddess sita. Locally this pilgrimage temple is referred to as the Naulakha Mandir and was constructed during 1898. The temple complex pans over an area of 4,806 sq. ft. and consists of the structure which is 3 stories tall. It is visited by avid devotees and Hindus from all over the world especially India and Sri Lanka. The legend of the temple tells us about the fact that Sita Mata had stayed here for a while and a golden statue is said to have been found on that very spot on which the temple was later on built.
Changu Narayan Temple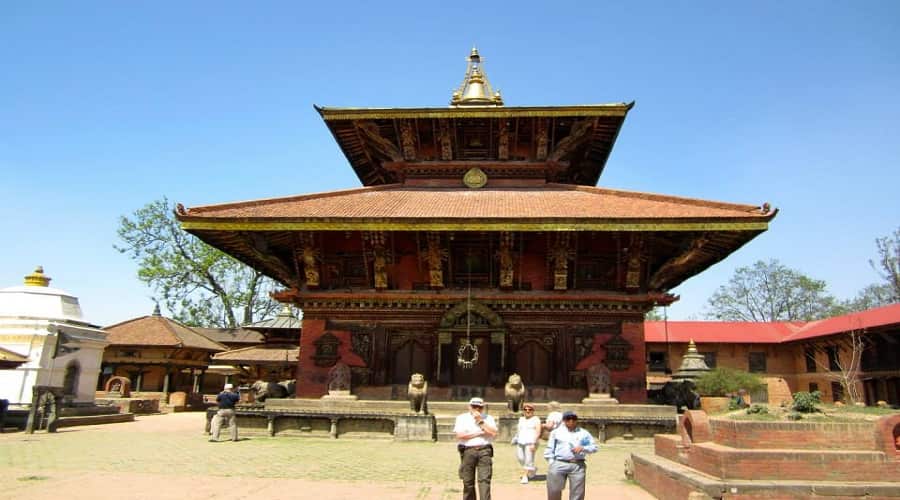 Change Narayan temple is an ancient Hindu place of worship situated on top of a beautiful hillock. Also referred to as Dhaulagiri the temple is completely surrounded by lush green thriving forest of trees of champak in a village that goes by the same name. according to the legend of Changunarayan goes that lord Vishnu had been accidentally freed from the curse of 2 humans and in whose honor this temple was made and visited by thousands of pilgrims to worship. Listed as a UNESCO world heritage site and as a monument of national importance the temple's value has only increased over the years. The art and architecture of the temple is very elaborate and filled with incredibly carvings and works of art which cannot be replicated anywhere in the world making it an extremely special place to be.