I absolutely love castles, so the gorgeous Neuschwanstein fortress was high up on my list of European castles to visit.  I have now been there once and driven by a couple of times both in summer and winter when on my way to Garmisch and Berchtesgaden.  If you're thinking about seeing this castle for yourself Or traveling to Neuschwanstein in Germany here are a few advisable tips for you.
Brief History of Neuschwanstein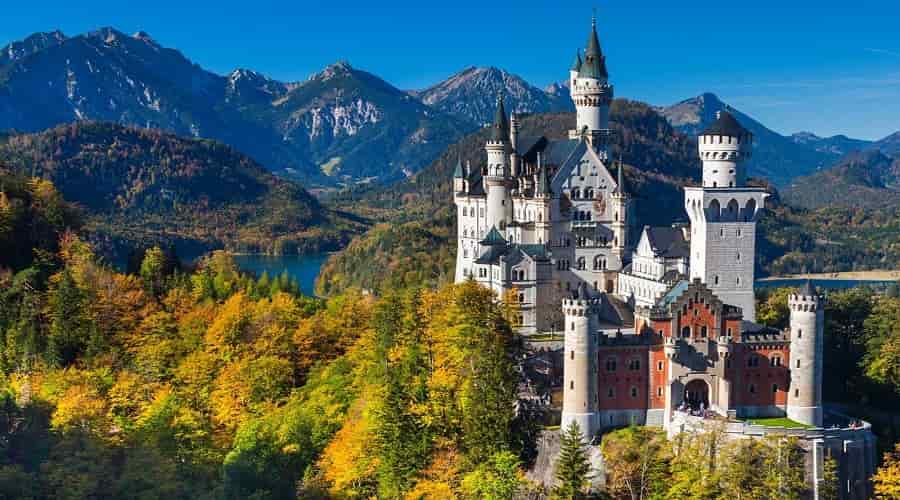 Neuschwanstein Castle is the most popular castle in the world. With its perfect perch high up on the Bavarian hills, it's the most romantic of all royal retreats.
Even Walt Disney himself couldn't resist Neuschwanstein and immortalized it as the Sleeping Beauty/Disney World castle.
King Ludwig II had paid for this beautiful construction and structure of this. He built most of the castles and they all were very expensive and attractive. King Ludwig II was a bit eccentric. Unfortunately, ol' Luddy died before he could see his project completed.
Though it's just one of his Bavarian castles, it's by far the most popular.  In 1886, just weeks after King Ludwig II died, Castles were opened publically.
Of course, this would have really ticked the reclusive King off since his intention was didn't to entertain anyone. much less common strangers, at this private residence.  But alas, the Bavarian royal family needed to pay off construction debts, and the public's obsession with seeing how the other half lived provided a steady income.
 Is Neuschwanstein Castle Worth Visiting?
Neuschwanstein Castle is over visited, but the place which will be never ended. This Bavarian castle is definitely worth visiting, especially if you'll be spending any time in the region.
The castle is being constructed in a proper manner including style, and scenic beauty. People will appreciate it after seeing the wonderful scenario from the Marienbrucke Bridge. The interior is just as lovely with extravagance on display in every room.  Neuschwanstein is one of the amazing castles to visiting if you want to get a good idea of how a King lived before his death.
The castle is only about an hour's drive from Garmisch, and From Munich, it will take around half an hour so visiting the castle really makes for a great day trip.
How To Get To Neuschwanstein Castle
Neuschwanstein is located in Bavaria, Germany. You can get to the castle from the small village of Hohenschwangau. You can as well as ride on a walk also, or if you want to travel King Ludwig style, take the horse-drawn carriage up the hill.  If you choose to walk, you have to wear comfy shoes for your comfort. It will take time approximately half an hour to climb up the hill depending on how fast you can go.
I chose to walk up but noticed a few people stopping to rest along the way. Don't force yourself to walk just to save a few Euros. Go with the option that you will be a part of this spectacular journey and enjoy your best memories with it.
Visiting Neuschwanstein Castle
To take admissions in Castle cost is 12 Euros and for under there will be no charge. You can purchase your tickets from the ticket center. Guided tours are provided in German and English, and there are audio tape tours available in other languages. The tour is around 30 minutes. and takes you through several of the main castle rooms including the throne room, dining room, and even the king's bedroom.
If King Ludwig II had lived to see his masterpiece finished, I do believe he'd proud. Each room glistens with gilded furnishings. Each wall displays ornate sculptures and the ceilings are adorned like a Roman cathedral, with beautifully hand-painted scenes.
Unfortunately, there is no allowance to click photos over there. They say it's to protect the treasures inside from being damaged by flash photography, but conveniently there are plenty of professional photos of the interiors of the castle for sale in the gift shop.