Situated in the western Garhwal Himalayan region at an altitude of 3,291 metres above sea level in the Uttarkashi district of devbhoomi, Uttarakhand Kedarnath Mandir is one of the prime pilgrimage spots in India and a crucial pillar of the Chota Chardham Yatra. Dedicated to Goddess Yamuna and located strategically at the point of origin of River Yamuna the main shrine of Yamunotri Dham stands majestically among the tall mountains, glaciers and cascading waterfalls which adorn the place. On your journey to the Dham location you will encounter a number of breathtaking sites and picturesque views on every corner.
Goddess Yamuna is said to be the daughter of sun and the alleged twin sister of Yama, who is the god of death. As per the holy Hindu book Vedas, Yamuna is also known as Yami who is the lady of life. It is said that a holy dip in the Yamuna waters will cleanse all your sins and give the individual a painless death. These facts have made this dham yatra on top of the divinity listing. This second most holy river in the country is a pillar of deep devotion and immense spiritualism.
The best time to visit this temple is during the months extending from April or May to June and September to October and November. The kapat of the main shrine is opened during the eve of Akshaya tritiya and closes 2 days after the day of Diwali. However, during the open season, the monsoon months of July and August is not recommended and highly discouraged due to unpredictable landslides, mud slides and avalanches. After closing of the shrine gates the entire region shuts off for visitation due to extremely low temperature and a thick blanket of snow covering which encapsulates the entire region making the temple unreachable and impossible to visit.
Yamunotri Yatra Route Map: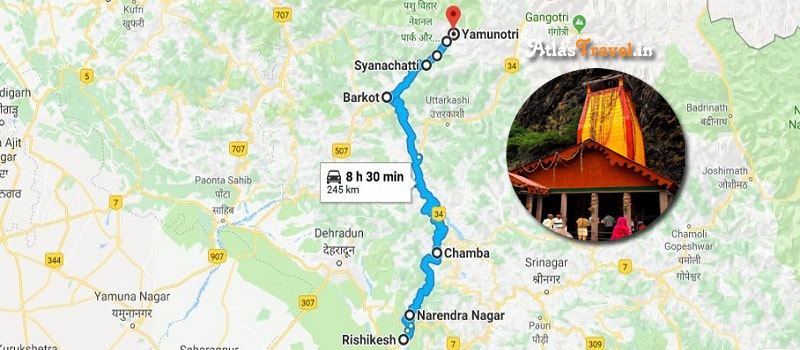 The sacred char dham yatra was founded and established by the great saint and philosopher Adi Shankaracharya during the 8th century. The journey toward Yamunotri dham and other dham kick start from the holy town of Haridwar or Rishikesh which are known for being the gateway to the gods. Yamunotri dham yatra is a relatively easier dham to reach as compared to other dham sites. From Haridwar / Rishikesh you will be required to move towards Narendra Nagar from where you will be headed to Chamba then Brahmkhal and finally towards Barkot which collectively make up for 117 km. From Barkot (which serves as the staging point), you will have several alternate trekking routes available to choose from. From Barkot you will head on toward Sayana Chatti which is located at a distance of 1 hour. Then you will be made to head on towards Hanuman Chatti which is located at a mere distance of 20 minutes, from here you will move towards Janki Chatti which is situated at a comfortable distance of half an hour. Janki Chatti will be the point from where your Yamunotri yatra trekking will commence which is located at a distance of 6 km which can be covered in almost 2 hours and 45 minutes by walking. There are also alternative methods of transportation available which are set up with an aim of helping and making the journey convenient and comfortable for the pilgrims and devotees.
On your way you can also pay a visit to some other highly revered religious destinations like Saptarishi kund – situated 10 km away from the main Yamunotri mandir, Surya kund – a gushing waterfall dedicated to the sun god and divya Shila – a rock pillar which is located next to Surya kund.
Here Is A Brief Itinerary For Yamunotri Dham Yatra:
Rishikesh – Narendra Nagar (16 km) – Chamba (46 km) – Brahmkhal (15 km) – Barkot (40 km) – Syana Chatti (27 km) – Hanuman Chatti (6 km) – Phool Chatti (5 km) – Janki Chatti (3 km) – Yamunotri (6 km).
If you are planning on visiting this seat of spiritual and devotional power of Goddess Yamuna then we hope that this Yamunotri yatra route map was helpful. We hope that you are able to complete all the Chardham Yatra with ease and successfully rejuvenate yourself.