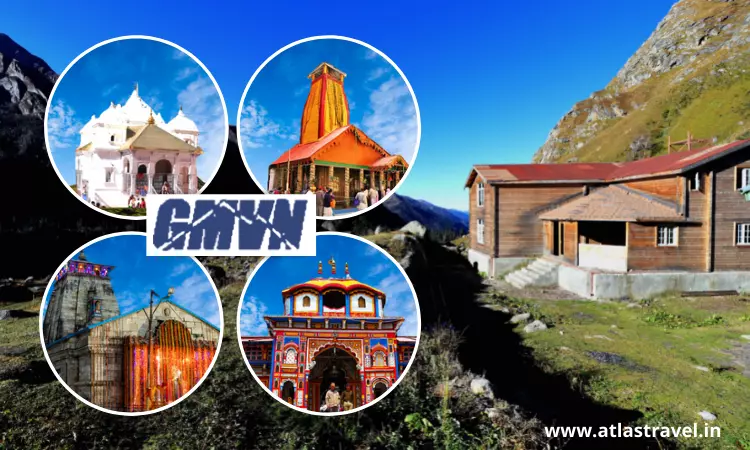 Tour Overview
Taking up the char dham yatra is an experience of a lifetime. Going to Kedarnath, Badrinath, Gangotri and Yamunotri in the Garhwal Himalayas is now easier than ever. The char dham yatra by GMVN gives you the opportunity to go on this holy pilgrimage at budget rates. This package ensures a comfortable stay, smooth transfers and a memorable experience overall. Book the char dham yatra by GMVN package now and travel with complete peace of mind.
Trip Highlights
Smooth transfers
Darshan at the temples
Additional sightseeing (if any)
Panch prayag visit
Scenic drive on the hills
Chardham Yatra Itinerary by GMVN
Day 1 :Rishikesh – Barkot – Phool Chatti (241 km)
We are set to depart for the auspicious pilgrimage quite early in the morning i.e. by 6.00 am. The first day's trip entails a 240 plus kilometer drive. We will pause at Barkot for a one hour lunch break from 1.00 pm to 2.00 pm. By 4.00 pm, we would have reached our stopover for the day at Phool Chatti. Enjoy your sumptuous dinner and retire for an early night's sleep.
Day 2 :Phool Chatti – Yamunotri Dham – Phool Chatti
Since the day involves over a considerably lengthy and challenging trek, we ought to begin early. After enjoying a light early breakfast, we will set foot on the Yamunotri trek. We would reach the Temple by 9.00 am.
Yamunotri Temple has been built in honour of River Yamuna's origin from Champasar glacier in Kalind Mountain, a one km uphill climb from the temple premises. One can find the deities of River Goddesses Yamuna, Ganga and Lord Hanuman. Another major attraction in the temple premises is the hot-water spring in which devotees prepare Prasadam of boiled potatoes and rice to be taken home.
After having darshan of Divya Shila, Surya Kund and the Yamunotri Temple, we will return towards our base-camp. By 4.00 pm, we are set to reach Phoolchatti. Dinner and overnight stay at Phoolchatti.
Day 3 :Phool Chatti – Uttarkashi – Harsil
On the third day of GMVN Char Dham Tour, the journey involves a 200 km drive to Harsil. By afternoon, we would have reached Uttarkashi. You can pay visit to the famous Kashi Vishwanath Temple while at Uttarkashi. A one hour lunch break is allotted from 1.00 pm to 2.00 pm. By 5.00 pm, we will reach our scenic stopover for the day at Harsil. Enjoy your overnight stay at Harsil.
Day 4 :Harsil – Gangotri – Uttarkashi
The fourth day's drive is perhaps the most delightful of the entire journey. The picturesque scenery that accompanies our drive en route to Gangotri is sure to enchant your senses!
Gangotri Temple is said to have been built at the site where Ganga first descended upon the earthly realms from her heavenly abode following the tapasya of King Bhagirath. The actual origins of Bhagirathi River are from Gangotri glacier at Gaumukh, which is located within the Gangotri National Park.
After taking a holy dip in the beautiful waters of Bhagirathi at Gangotri, performing pooja beside her serene flow and worshipping at the holy Temple, we will depart towards our hotel at Uttarkashi by 2.00 pm once Uttarkashi is reached, relax at the reserved hotel. Enjoy Dinner & have a rejuvenating night-stay.
Day 5 :Uttarkashi – New Tehri – Syalsaur
On the fifth day, the journey involves drive of over 270 km. We will halt at New Tehri for a one hour lunch break. By 5.30 pm, we would have reached our halt for the day at GMVN Tourist Rest House, Syalsaur. Dinner and overnight stay at Syalsaur.
Day 6 :Syalsaur – Gaurikund – Kedarnath
On the sixth day of GMVN char dham tour, we will visit the third of the Char Dham Temples – Kedarnath. We will depart from Syalsaur by 6.00 am to reach Gaurikund by 9.30 am. After having an early lunch, we will set out towards Shiva's Jyotirlinga at Kedarnath. The 15 km uphill trek is a true test of one's physical endurance and spiritual perseverance. The sight of Kedarnath temple at the culmination of the trek is sure to fill your heart with utmost joy.
At Kedarnath, one witnesses Shivlinga resembling the shape of a hump of a bull. An interesting legend surrounds the conception of the temple. It is said that Lord Shiva in the guise of a bull dived into the ground at the very site, leaving the hump above the ground, in an attempt to evade Pandavas who were seeking him out for reparation of their participation in Kurukshetra war.
Enjoy the blissful darshan of Jyotirlinga and participate in the evening pooja. Stay near the temple precincts.
Day 7 :Kedarnath – Gaurikund – Rudraprayag
After having darshan of Lord Shiva once more in his pristine form as Jyotirlinga and taking part in the early morning Pooja, we will trek downhill towards Gaurikund. Visit to Guptkashi Temple is also included in the day's itinerary. By 6.30 pm in the evening, we would have reached our halt for the day at Rudraprayag. Dinner and overnight stay at the hotel.
Day 8 :Rudraprayag – Joshimath – Badrinath
After enjoying an early breakfast, we will depart towards the fourth Char Dham Temple – Badrinath. We will halt for lunch while on the 160 km bus drive at Joshimath. By 4.30 pm, we will arrive at GMVN Tourist house Devlok at Badrinath. After freshening up, enjoy a blissful darshan of Lord Badrinarayan and take part in the blissful Pooja. Retire for an early night's sleep after enjoying a sumptuous meal.
Day 9 :Badrinath – Joshimath – Kaleshwar
Many legends surround the conception of the sacred Temple at Badrinath. Some cite that the region marks the meditative space of Nar & Narayan, the dual avatar of Lord Vishnu, for thousands of years. Some cite that Lord Vishnu meditated at this very space in the shade and solace offered by Maa Lakshmi as an abundant Badri Tree. Some legends even suggest Lord Vishnu's playful usurping the abode from Lord Shiva, and subsequent move of Lord Shiva to Kedarnath.
Only the blessed gets to enjoy the blissful early morning darshan of Lord Badrinarayan. Enjoy the early morning pooja at Badrinath Temple. We will depart towards our next destination at Joshimath by 9.00 am. Once at Joshimath, you may enjoy your lunch break and even visit Auli by cable car. Please keep in mind the cost has to be borne by self only. Afterward, we will resume our drive towards Kaleshwar. Dinner and overnight stay at Kaleshwar.
Day 10 :Kaleshwar – Kaudiyala – Rishikesh
The final day in the GMVN char dham tour itinerary involves a 180 km road trip from Kaleshwar to Rishikesh. We will halt at Kaudiyala for a one hour lunch break. By 6.00 pm, we will have reached our Rishikesh. Hopefully, the beautiful pilgrimage has left you profoundly altered and joyous!
Package Includes
Stay in good GMVN hotels
Meals as per itinerary
Driver allowance, parking charges etc
Pick up and drop off service
Toll taxes, fuel price etc
Package Excludes
Any personal expense
Portage, tipping etc
Camera charges, monument entrance fees etc
Extra charges in case of an emergency
Anything not mentioned in the inclusions section
Frequently Asked Questions
Q.Does GMVN have helicopter booking service?
A. Yes. GMVN offers online helicopter booking services.
Q.What type of stay can I expect from GMVN?
A. GMVN guest houses are spacious, large with rooms available for booking on a private basis as well as dorm rooms.
Q.Are there GMVN stays available in char dham temples?
A. Yes. GMVN stays are available all along the char dham temple routes.
A. GMVN is the Garhwal Mandal Vikas Nigam which is an enterprise of the Government of Uttarakhand. It has over 90 guesthouses and tourist bungalows all over Uttarakhand.
Q.What other booking does GMVN offer?
A. GMVN offers Kedarnath cave booking services as well.
Tour Description
| | |
| --- | --- |
| Duration | 10 Days / 9 Nights |
| Destinations | Rishikesh → Barkot → Phool Chatti→ Yamunotri → Uttarkashi → Harsil → Gangotri → New Tehri → Syalsaur → Gaurikund → Kedarnath → Rudraprayag → Joshimath → Badrinath → Kaleshwar → KaudiyalaRead More |
| Tour Price | ₹ 38,500 /- |
Chat with our Trip Advisor