Char Dham Yatra is one of the most sacred and holy pilgrimage journeys in the world. Covering this journey is believed to wash away the sins and end the karmic cycle of birth and rebirth hence giving the pilgrims complete moksha. The gates of the Char Dham Yatra open up during the summer months during the eve of Akshaya Tritiya and shuts down 2 days after Diwali during the day of Bhai Dooj. After 6 months of extreme spiritual activities the temple Kapat shuts down for Darshan and the presiding deity is shifted to their respective winter abodes. The cost of this pious and sacred Yatra is affordable and available at some of the cheapest rates.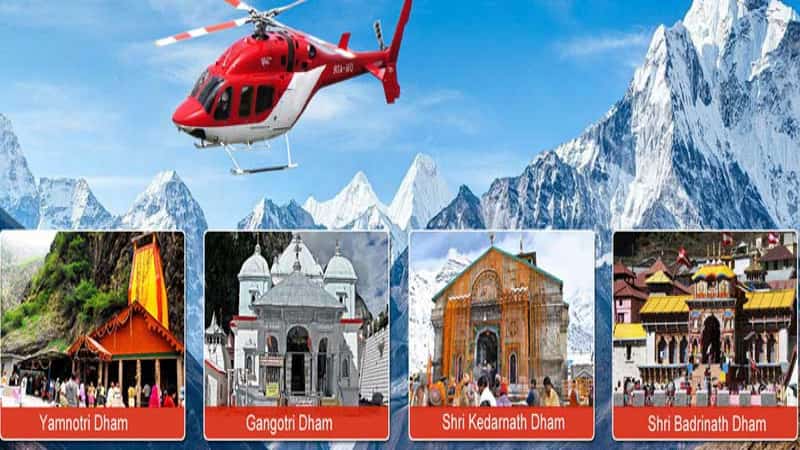 Cost of Char Dham Yatra by Air
In case you decide on booking a Char Dham Yatra by helicopter then you will be required to first travel till Dehradun, Haridwar or Rishikesh. The general route which will be followed after reaching Dehradun / Rishikesh or Haridwar will be as follows – Kharsali – Yamunotri – Gangotri – Harsil – Guptkashi – Kedarnath – Guptkashi – Badrinath.
There are numerous char dham yatra packages by helicopter available which will prove to be extremely cost effective and will take lesser time to complete the entire yatra. The approximate per pilgrim cost ranges from rupees 1,30,000/- to rupees 2,60,000/-.
Cost of Char Dham Yatra by Public Transportation
If you are planning on completing the Char Dham Yatra through public transportation then you will have the option of choosing from GMOU bus and taxi services. The costs of these vehicles depend on the starting point of your journey. The basic route map of Char Dham Yatra which is followed by all the public buses and taxis are as follows – Haridwar – Barkot – Yamunotri – Uttarkashi – Gangotri – Guptkashi – Kedarnath – Badrinath – Rishikesh.
From Rishikesh the taxi services costs approximately 26,000 while the maxi services costs around 27,000. The cost of roadways bus from Rishikesh is 2,400 and a DLX bus will charge you 2,690. From Haridwar a GMVN bus (27 seaters) will charge you 15,380 while a private bus (14 seaters) will cost you 46,000.
Cost of Char Dham Yatra by Car Rentals
You have the option of booking cars for the Char Dham Yatra from Delhi NCR, Noida, Gurugram, Haridwar, Rishikesh and even Mumbai, Chandigarh, Jaipur. These private cars follow the given route – New Delhi – Haridwar – Barkot – Yamunotri – Uttarkashi – Gangotri – Guptkashi – Kedarnath – Badrinath – Rishikesh – New Delhi.
Here are some of the approximate charges of the car services according to vehicle and seats available – Etios is available for rupees 3,700/- driver included, swift desire is available for the same price. A 6 seater Xylo is available for rupees 5,500/- and a tempo traveler of 12 to 17 seater will cost between rupees 6,500/- to 7,500/-.
Hotel Cost in char Dham Yatra
There are several stay options available all along the Char Dham Yatra route. The categories of the hotels on the Char Dham Yatra route range between deluxe, luxury and budget. There are also lodges and ashrams available for the convenience of the Yatri on your way. Accommodation prices in these hotels range from INR 100-200 and goes up till INR 2000 per room. Yatris are expected to make prior bookings for these hotels in order to avoid any sort of inconvenience and also because during the Yatra season all the hotels fill up fast and it gets very difficult to find a hotel on the spot.
We hope that this guide concerning the rates and costs of the Char Dham Yatra proves to be helpful for your future spiritual endeavours.