Commonly known as Vishal Badri and perched at a height of 3,300 metres above sea level, Badrinath is one of the prime spiritual centres in India. Along with being a part of the Chota Chardham Yatra of Uttarakhand Badrinath Dham is also one of the crucial centres of pilgrimage for the all India char dham yatra which covers all the four corners of the subcontinent. Sitting under the majestic shadow of Nar Narayan mountain peaks, Badrinath attracts a huge number of pilgrims each year. Located by the holy River Alaknanda this vibrantly colorful mandir opens its doors for darshan during the eve of Akshaya Tritiya during the months of April and May. If you are looking for a pilgrimage which will potentially change your life then visiting Badrinath Dham is definitely the spiritual anecdote you need.
Badrinath Dham Yatra Route Map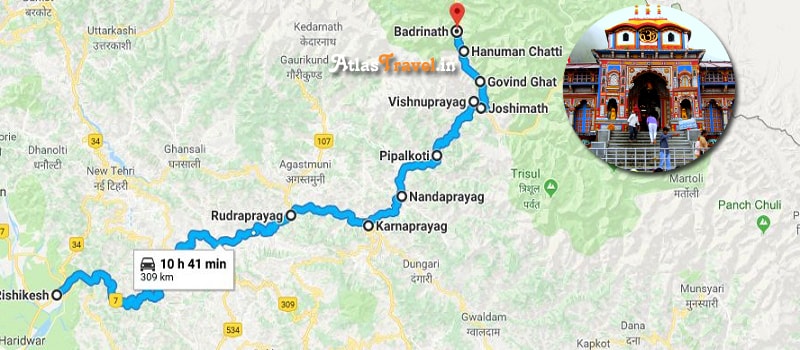 Badrinath dham is easily accessible by road and the paths leading up to the dham are well connected with a network of well-structured roads catering to numerous buses and other vehicles. From Delhi the dham is located at a road journey distance of 525 km. From Delhi you will head on towards Rishikesh or Haridwar which will serve as the base camp for your journey. Be sure to keep all your heavy luggage and baggage at your hotel here since beyond this point, the journey will be strenuous and would require you to carry only a light load along with you. Your next stop will be at Devprayag which is at a distance of 74 km from Rishikesh / Haridwar, which can be reached via a bus or a shared jeep or cab. From Devprayag you will be made to head towards Srinagar which is located at a distance of 34. From Srinagar, your next destination will be the holy focal point of Rudraprayag which is situated at a distance of 33 km. your next destination will be Karnaprayag which is 31 kms away and from Karnaprayag you will be made to head on for Nandaprayag which is 21 km away. Your next destination will be Chamoli which is 10 km away. From Chamoli, you will head on towards Joshimath from where you will trek onward towards the main shrine of Badrinath.
Here Is A Brief Route Map Of Badrinath Dham:
Delhi – Haridwar / Rishikesh – Devprayag – Srinagar – Rudraprayag – Karnaprayag – Nandprayag – Chamoli – Joshimath – Badrinath.
Best Time to Visit Badrinath Dham
The months from May to November is considered to be the best months to visit the famous and holy Badrinath Dham. The months of May and June witnesses the most amount of crowd flocking here making it two of the most busy and rushed months in the Dham Yatra itinerary. During the months of September and October, the rush decreases a little bit and is the perfect time for a much more relaxed and ideal journey towards spiritualism. From June to August the entire region experiences rainfall and pilgrimage during this time are discouraged since the whole area remains prone to landslides and mudslides.